News
News
Donal 'Doc'Glesson Awards 2017
THE DONAL (DOC) GLEESON INSTRUMENTAL TUITION AWARDS
FUAIM is very proud to present the winners of this year's Donal 'Doc' Gleeson Awards for undergraduate performance. They are Rebecca Saich, Ricky Kelleher, Ciara McGarrigle and Conor Soltan.
In memory of their colleague, Donal Gleeson, the Dublin Postal Clerks Branch of the Communication Workers' Union has established a fund to enable the University to provide a number of Instrumental Tuition Awards. Up to four awards are made each year to deserving undergraduate music students. This week's Friday lunchtime concert will feature four short performances by Rebecca, Ricky, Ciara and Conor, including Irish traditional, popular, Western Art and Indian classical musics.
Rebecca Saich
Rebecca Saich is currently studying for a BA in Music and Irish. She began learning the concertina at a young age with the Fermoy and Ballyduff Comhaltas branches. She has many achievements to her name: she was a member of the group, Nuada, which won in the Siansa Gael Linn 2013 in the National Concert Hall in Dublin, she has won All-Ireland Pleareacha medals, and she has won All-Ireland and World medals for Irish dancing.
Through music and dance, Rebecca has had wonderful opportunities to travel widely and she has performed in countries as far afield as England, Scotland, America, Canada, and most recently, China. Rebecca is delighted and honoured to receive this Donal 'Doc' Glesson award: for this performance, she will play three sets of tunes accompanied by her brother, Jeremy, on guitar.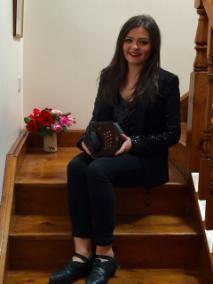 Ricky Kelleher
Ricky Kelleher hails from Dripsey, Co. Cork, and is currently a second-year BMus student. Ricky grew up in a very musical household, strongly influenced by the music of his father, Pat Kelleher, a folk musician, singer and songwriter. He has been singing since the age of four and began performing in public at the age of twelve. Ricky plays guitar, double bass, five-string banjo and drums. He plays predominantly folk and bluegrass music, while also branching out into rock, pop and indie. After graduation, Ricky's goal is to pursue a career as a professional musician or in music production.
For this week's concert, Ricky will perform a mix of original compositions and traditional folk songs.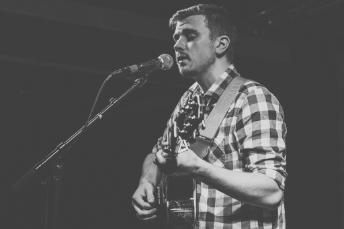 Ciara McGarrigle
Ciara comes from a musical family in County Limerick. She began formal piano lessons at the age of seven, focusing primarily on western art music. She also learned traditional Irish music, picking up the concertina as a teenager, as well as a number of other genres. In her late teens, she became especially interested in impressionist and contemporary classical music, as well as jazz.
Ciara will present a selection of piano works from the impressionist, contemporary Irish and jazz repertoires.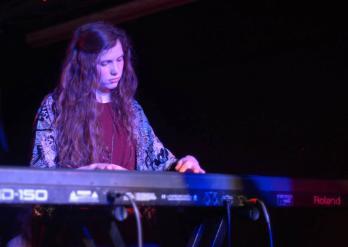 Conor Soltan
Conor Soltan is a 3rd-year UCC music student from Carrigaline, Co. Cork. He began learning the guitar at age 10 through the Cork County School of Music and continued to play for a number of years. Exposure to the various world music cultures being taught in the Department of Music, such as the gamelan music of Central Java and the classical music of India, has fuelled Conor's musical creativity in many respects. In his second year of study he made the logical progression from performing the repertoire-based music of the classical guitar to learning the Indian sitar and its accompanying music culture, which is deeply rooted in improvisation.
For his performance this Friday lunchtime, Conor will be improvising in the playful yet expansive raga Bhairavi on the sitar.