News & Events
News & Events
Can anyone really resist a cookie - why not try a FULL BOX!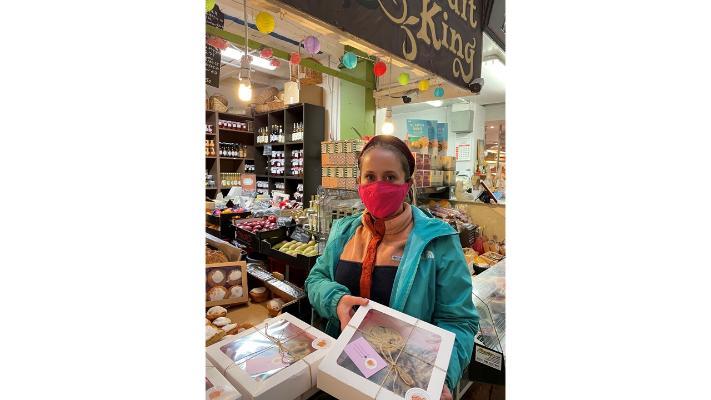 If a basic biscuit just isn't going to cut it after a long week, one Cork baker is getting ready to deliver boxes of pure joy to doorsteps all over Cork.
Good Fortune Cookies is a brand new cookie company doing a brisk business in dropping off freshly baked, oven-warm thick double chocolate, caramel, hazelnut, peanut and honeycomb cookies by the boxful.
Read Sarah's story:
Following a relocation to Cork from the UK, I began my journey in food business by studying the Diploma in Speciality Food Production in UCC. This course gave me the necessary skills and confidence to start up my own food business, a seasonal cafe in a winter event which I did for two winter seasons. Lockdown put a stop to the event side of things which led me to study in Ballymaloe Cookery School to expand on my skills.
The course finished up in December 2020 and we were facing another lockdown, so I made loads of edible gifts for friends and family over the following few weeks. I started adding in little notes saying "hang in there" or "can't wait to see you soon" which gave me the idea that I could do this as a business, delicious treats with thoughtful messages, and Good Fortune Cookies was born. I wanted to take the hassle out of gifting - we'll bake the cookies, package them up nicely, write the card and deliver them to the door. We get orders from all over the world from those wanting to send freshly baked goodness to their loved ones in Cork which they can order so simply from our website.
I am so proud and delighted to be a finalist in Blas na hEireann this year - something I remember well being discussed with such high esteem when I was in UCC. We are looking forward to launching new products soon and excited for what the future holds for us.
To get more info or to place an order check out the Good Fortune Cookie Website: https://www.good-fortune.ie/about-us