Diploma in Corporate Direction (Food Business)
Diploma in Corporate Direction (Food Business)
Diploma in Corporate Direction (Food Business)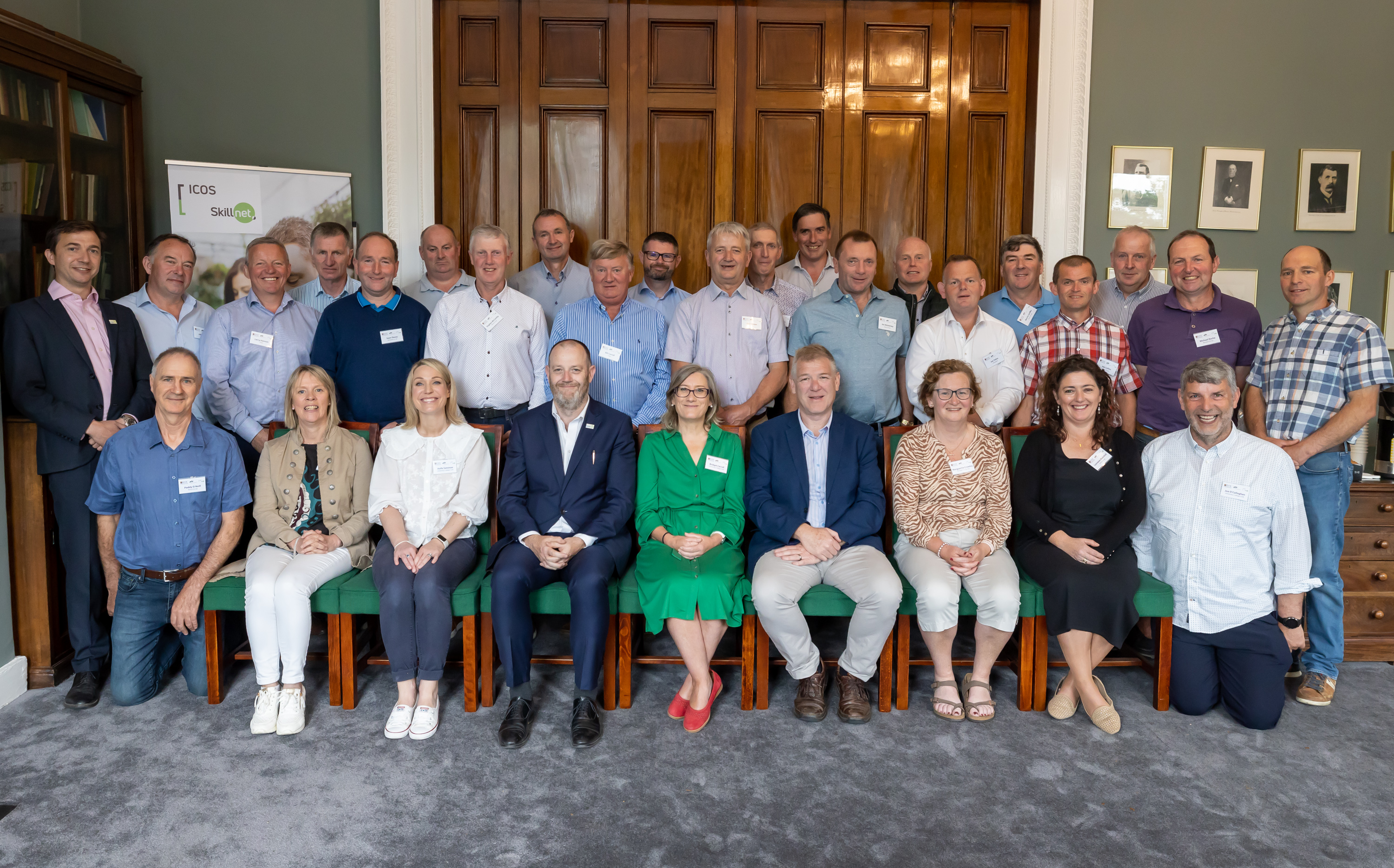 The Diploma in Corporate Direction (Food Business) is a Management Development Programme for co-operative board members and senior management. This innovative programme was developed by the Irish Co-operative Organisation Society and University College Cork and is designed to address the special needs of co-operative board members and senior management in a rapidly changing agri-business environment.
Aims and Objectives
The key aim of the course is to improve the capabilities of directors and senior management in positively influencing the strategic direction and corporate governance of food companies in Ireland. Participants will build on existing skills and develop new management capabilities in a higly interactive learning environment stimulated by academics and industry practitioners.
Who Should Attend?
The course is directed at board members, senior managers, and owner managers in the co-operative and agri-food sectors. Suitable candidates from other related disciplines who wish to develop their skills in these sectors will also be considered.
The following video outlines the importance of continuous professional development for co-operative directors:
Why Choose this Diploma?
This Diploma is a University qualification and is the only one of its kind in Ireland. It is dedicated to the Co-operative and Agri-Food Sector.
It has been proven to develop management capability and confidence for Board Directors over many years.
There is a significant emphasis on sustainability issues throughout the Diploma.
It is delivered through the Food Industry Training Unit in UCC which has a proven track record of successfully training thousands of food industry personnel over the last 30 years.
The learning is highly customised to Agri-Food Board Directors and is applied to the co-operative sector.
Diploma participants are closely supported during the entire duration of the Programme, through a dedicated Diploma Academic Director and Programme Manager.
Guidance and feedback on course assessment.
Programme Delivery
The Diploma will be run from June to January, as a blended learning programme i.e. a blend of eight in person and online learning workshops, usually 2 or 3 days in duration.
Modules will be delivered with practical lectures, downloadable self-paced course material, and learning activities.
Applied assignments and an in-company project will be completed by each participant and are a compulsory part of the course. There are no formal end of year written examinations.
Brochure 2023-24:
Diploma in Corporate Direction Brochure 2023/24
Timetable 2023-24:
The programme consists of seven 2-day and one 3-day modules.
To view the 2023-24 Timetable in more detail, please see:
2023-24 Timetable - Diploma in Corporate Direction
Participant Testimonials
"As a board member of my local cooperative for a number of years, to participate in the Diploma in Corporate Direction gave me a confidence and self-belief that I lacked in the boardroom. Every module in the Diploma, while all different, brought together the strategies that are needed in today's world to develop and run successful Co-operatives and food businesses. I had no formal 3rd level education and the help and assistance I received from both ICOS and UCC was second to none. I believe that any new board member joining their local Co-op should grasp the opportunity to do this course. I have met board members from other Co-operatives and this also brings a very important social dynamic both to the course itself, as well as making lifelong friends."
"The Diploma in Corporate Direction (Food Business) offered a great opportunity to participate in a third level qualification. The Diploma should be compulsory for new board members as it offers great value and insight into the functioning of co-operatives and business in general."
"This is an excellent course which gave me a great understanding of the Co-operative Society from its origin to where it is today. It improved my capabilities as a Director, which I hope will positively influence the strategic direction and corporate governance of the Co-operative which I am involved. I can honestly say this course helped me build the necessary skills and management capabilities needed to be a Director in a Co-operative today, through the highly interactive learning environment, which is stimulated by academics and industry presenters, a must for every Cooperative Director."
"This course, through its excellent lectures, covers a diverse and broad range of topics which give a great understanding of how the world of food business operates."
"This was a challenging experience that provided me the opportunity to research topics that helped me to develop my understanding of my role as a Director. As a result, I feel more confident discussing the advancement of the business in Directors' meetings."
"I know the food industry better now, and I now know what to expect of our own board and management. I am better able to express my opinions and hold others to account."
"We were so privileged to have such a panel of speakers from UCC. Well done to the organisers!"
"Should be compulsory for all board members!"
Register Your Interest
The next planned intake for this diploma is 2025-26.
To register your interest, please contact:
Aoife Sammon, Programme Manager, Food Industry Training Unit (FITU)
School of Food and Nutritional Sciences
College of Science, Engineering and Food Science, UCC
e: a.sammon@ucc.ie | t: 021-490 1729
or
Billy Goodburn, Learning and Development Manager, ICOS Skillnet
The Plunkett House, 84 Merrion Square, Dublin 2
e: billy.goodburn@icos.ie | w: www.icosskillnet.ie | t: 087-126 5542