2020-2021
2020-2021
2:00 PM, 10 Mar 2021 - , Online
---
Live Webinar Today 2pm with Clíodhna O'Callaghan, Dr. Orla Lynch, Catherine Dawson & the CDE Team.
At 2pm today we will host a live Q&A for staff with a specific focus on the student feedback pillar 'Flexibility' for remote teaching and learning at this link . This will provide an opportunity for staff to enquire about how they can incorporate more flexibility into their teaching and an opportunity to ask any questions they might have in the context of teaching online in UCC.
What is 'Teach Digi Ag Caint'?
'Ag Caint' is the Irish for 'chatting' or 'talking' and the format of this training series will include a short 'chat' with a lecturer and a separate session with a student/learner in UCC on each of the five pillars. This will be informal in nature; however, it will focus firmly on some practical advice for staff on how they can adapt their teaching to incorporate some simple and accessible advice from the lived experience of both staff and students of online teaching and learning in UCC.
Student Feedback is Key – the Five Pillars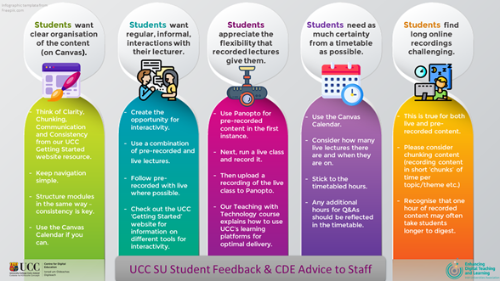 Pre-recorded (15 mins) 'Ag Caint' sessions on the topic 'Flexibility' can be accessed on our Teach Digi sessions page
In the staff led session, Clíodhna O'Callaghan speaks with Dr. Orla Lynch, Senior Lecturer, School of Criminology.
And in the student led session, Catherine Dawson speaks with Irina Fernandes, HDip in Social Policy Student.
Should you have any questions or feedback on this series please contact Ms. Clíodhna O'Callaghan, Project Lead for the IUA 'Enhancing Digital Teaching & Learning' project and member of the (Centre for Digital Education) CDE team on c.ocallaghan@ucc.ie.
Free - all welcome. Organised by Centre for Digital Education, UCC