2019-2020
2019-2020
9:00 AM, 12 Dec 2019 - 5:00 PM, 14 Dec 2019, Boole Lecture Theatre
---
The Department of Asian Studies at University College Cork and the UCC Confucius Institute are glad to invite you to
ISOCTAL-3
The Third International Symposium on Chinese Theoretical and Applied Linguistics
From Thursday 12h to Saturday 14th December 2019
at the Boole Theatre.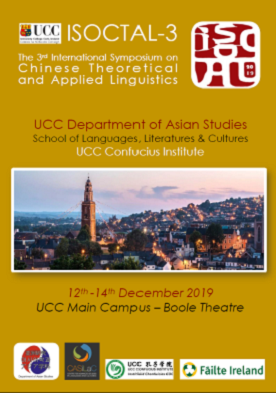 The Symposium aims to promote worldwide collaboration on Chinese theoretical and applied linguistics by giving researchers an opportunity to share their work.
Please find attached the schedule for the day. Registration starts at 8.00 am, with the welcome address by Prof Chris Williams at the Boole Theatre.
All colleagues and friends are invited.
Please note that the conference handbook can be found at the following link https://isoctal2019.files.wordpress.com/2019/12/isoctal-3-conference_handbook.pdf
Free - all welcome. Organised by Department of Asian Studies, UCC