2019-2020
2019-2020
11:00 AM, 08 Nov 2019 - , CACSSS Seminar Room
---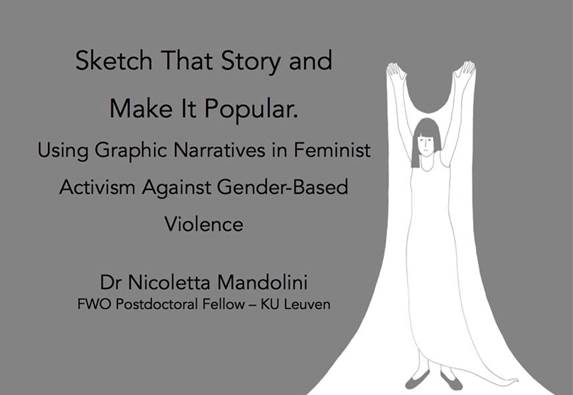 Fostered by global and local feminist movements, the international discourse on gender-based violence (GBV) has reached significant popularity since the first decade of the new millennium (Romito 2005). Notwithstanding the laudable visibility achieved, this mainstreaming has resulted in representations that have often confirmed, instead of questioned, gender stereotypes (Mandolini and Williamson 2017).
This is particularly true if we look at specific cultural contexts in which feminist discourse on sexist abuse has passed from marginality to visibility: Italy, where an extensive discussion on femicide started in 2012 (Laviosa 2015) but where media portrayals continue to consolidate patriarchal rhetoric (Giomi 2015).
In light of this situation, activists and artists in Italy and beyond have produced a variety of responses that have challenged the simplistic portrayal of sexist abuse conveyed by mainstream journalistic discourse. Among these, graphic novels on the topic have been published in recent years and feminist collectives have frequently used graphic narratives – in particular, superhero comics – for their awareness-raising campaigns against sexist abuse.
In a global context where activists' goals are mainly discursive (Jenkins et al. 2016) and where storytelling is a strategy commonly employed in feminist counter-discourse construction (Guaraldo 2013), an investigation on the use of graphic narratives to portray sexist abuse is necessary in order to fully understand the potentials of gender violence-related social movements practices. However, no systematic research on the topic of graphic narratives against sexist abuse has been carried out so far.
This work in progress will consist in the presentation of a postdoctoral research project aimed at investigating the role played by graphic narratives in the popularisation of feminist stances on gendered abuse in Italy and beyond. The project, funded by the FWO (Research Foundation Flanders), is built around the hypothesis that graphic novels and comics represent a crucial resource in the area of art-activism against sexist violence, given their ability to use the cross-discursive system of words and images to convey complex narrative structures while, at the same time, remaining accessible to a wide audience.
Free - all welcome. Organised by Caroline Williamson Sinalo, Lecturer in World Languages, French Department