2019-2020
2019-2020
2:00 PM, 16 Sep 2019 - , New Council Room
---
All are welcome to a guest lecture next week by Dr Pauline Henry-Tierney (Newcastle University) in the New Council Room. The lecture, which will begin at 2pm, follows the introductory meeting for the new cohort of students on the MA in Translation Studies. The lecture will be followed by a reception to welcome the new students.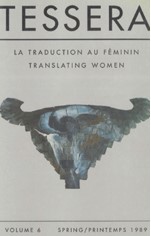 '(Dis)placing the Self: Translating Autofictional Women's Writing'
Dr Pauline Henry-Tierney, Newcastle University
Monday 16th September, 2pm, New Council Room
In her article, 'Theorizing Feminist Discourse/Translation', feminist theorist and translator Barbara Godard asserts that, 'everywhere women are writing their way into subjective agency, dis/placing themselves' (1989: 45). Godard is referring to the affirmative power that writing can have for women. For her, the potentiality of the textual space enables women to 'place' themselves at the centre of their own narratives of subjectivity and lived experience, 'displacing' themselves from fictional and 'factual' representations of women configured through phallocentric discourses. Yet, what happens when the self is dis/placed linguistically and culturally by another self, namely a translator? Furthermore, how does the act of performing differing subjectivities dis/place the translating self? And, in what ways can the paratext work to dis/place the authorial/textual self? To address these questions, I will draw upon pertinent examples from transgressive, contemporary women's writing in French and its translation into English. Focussing specifically on the autofictional dimension of this new trend in contemporary women's writing, I will consider the implications these translation decisions bear for negotiating the multiplicities of self at stake.

Pauline Henry-Tierney is a lecturer in French and Translation Studies at Newcastle University. Her research focuses on representations of gender, sexuality and corporeality in recent transgressive French and Francophone women's writing and its translation into English. Recent publications include articles on translation and sexual alterity; matrophobia, and the translation of queer theoretical texts. She is currently working on a new project which explores the transnational dissemination of Beauvoirian thought via translation.
Best wishes,
Hannah
Dr Hannah Silvester
Lecturer in French
MA Translation Studies Coordinator (French)
School of Languages, Literatures and Cultures
O'Rahilly Building 1.21
University College Cork
Free - all welcome. Organised by Dr Hannah Sylvester