News Archive 2019
News Archive 2019
Ryan Kruschel Wins Best Flash Presentation Prize at the 71st Irish Universities Chemistry Research Colloquium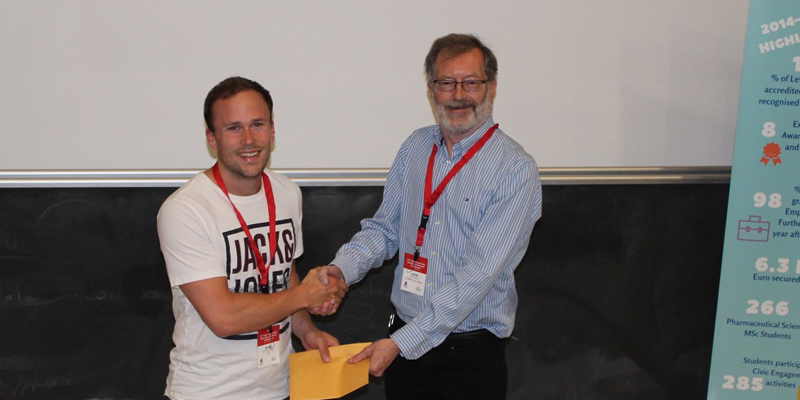 School of Chemistry PhD student Ryan Kruschel won a 'Best Flash Presentation' prize at the 71st Irish Universities Chemistry Research Colloquium.
The colloquium was recently hosted by The School of Chemical and Pharmaceutical Sciences, TU Dublin, in association with the Department of Chemistry of the Royal College of Surgeons in Ireland (RCSI). It provides an opportunity for the chemistry research community, particularly postgraduates, within Ireland's third level sector to disseminate their work either by an oral or poster presentation as well as a forum for networking and developing collaborations. Oral presentations, flash talks and posters were contributed by postgraduates from each of the 10 universities on the island and from 3 Institutes of Technology. This year's theme was sustainability, and the event took place on Thursday 20th and Friday 21st June.

The invited plenary speakers were Prof. Luuk van der Wielen, Director, Bernal Institute and Chair of Biosystems Engineering & Design, University of Limerick, who spoke about recycling and Dr. Francesca Paradisi, Professor in Pharmaceutical and Bioorganic Chemistry, University of Bern, who discussed her work on biocatalysis and flow chemistry, which allows more sustainable reactions.
In total, 10 postgraduate students from the School of Chemistry made oral, flash or poster presentations. Ryan's prize winning flash presentation was entitled 'Synthesis of Isoquinolinequinone N-oxides as Anticancer Agents'.

Student
Presentation
Title
Thanih Balbaied
Oral
Quantitative resazurin assay of cell viability for release alkaline phosphatase (ALP).
Thomas Brouder
Oral
Asymmetric copper-catalysis used for efficient desymmetrisation in intramolecular C-H insertion reactions of a-Diazo-b-oxo Sulfones.
Ryan Kruschel
Flash

Synthesis of isoquinolinequinone N-oxides as anticancer agents

.
Mark Lynch
Flash
Computational investigation of the clustering behaviour of isonicotinamide in common solvents.
Olga Dennehy
Poster
Optimisation and scale-up of the β-chloroacrylamide process using batch and continuous flow methods.
Eimear Heffernan
Poster
Source apportionment of ambient carbonaceous aerosol in Ireland using a variety of analytical techniques.
Kevin Sheehy
Poster
Ambident reactivity of enolates: The last stand for HSAB theory?
Niall O'Sullivan
Poster
On-line analysis of organic aerosols in air.
Alex Lonergan
Poster
Filling in the gaps: A comprehensive analysis of light transmission through void-filled inverse opal photonic crystal materials.
Niamh O'Mahony
Poster
Rapid profiling of enteric coated drug forulations via broadband acoustic resonance dissolution spectroscopy (BARDS).