News Archive 2018
News Archive 2018
2018 RSC Higher Education Technical Excellence Award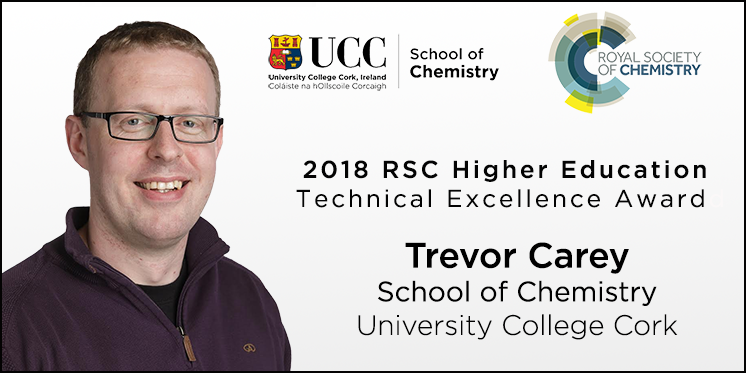 Dr. Trevor Carey, Senior Technical Officer in the School of Chemistry, is the 2018 recipient of the Royal Society of Chemistry Higher Education Technical Excellence Award.
Selected by the Awards Committee of the Royal Society of Chemistry's Education Division, this annual prize is given to an individual or team who has demonstrated outstanding competence and technical support within the Higher Education sector. Trevor won this award for excellence in the support and continued development of undergraduate physical chemistry teaching practicals and for contributions to chemistry outreach and promotional activities in Ireland. The annual Royal Society of Chemistry awards ceremony will take place in London this summer.
The Royal Society of Chemistry 2018 Prizes and Awards Programme celebrates the outstanding work happening in every corner of the scientific community. The annual prizes and awards recognise achievements by individuals, teams and organisations in advancing the chemical sciences. The awards also acknowledge the importance of teamwork across the chemical sciences, and the abilities of individuals to develop successful collaborations.
RSC Education & Schools Prize Winners 2018
Education Award - Dr. Andrew Dicks, Department of Chemistry, University of Toronto, Canada.
Higher Education Teaching Award - Dr. Dylan Williams, Department of Chemistry, University of Leicester, UK.
Higher Education Technical Excellence Award - Dr. Trevor Carey, School of Chemistry, University College Cork, Ireland.
Schools Education Award - Mrs. Naomi Hannah, Northampton School for Boys, UK.
Inspiration and Industry Award - Project M, Harwell, Oxfordshire, UK.
Lord Lewis Prize - Prof. Luis Oro - University of Zaragoza, Spain.

Full list of 2018 RSC Prize and Award Winners