DRI @ UCC
DRI @ UCC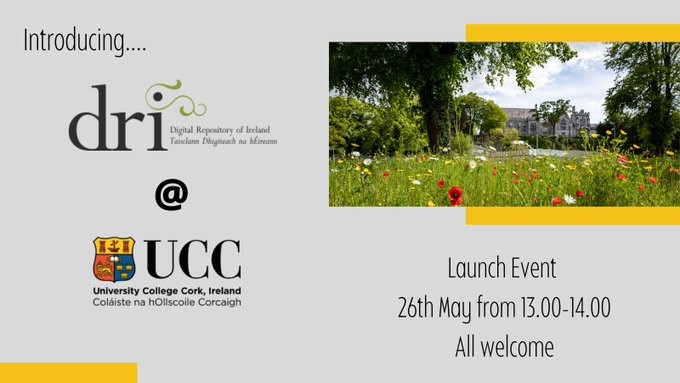 A recording of the launch event can be accessed here.
On 16/5/21 the College of Arts, Celtic Studies and Social Science (CACSSS) in collaboration with UCC Library launched its membership of the Digital Repository of Ireland (DRI). The DRI is a national repository focused on humanities, social science and cultural heritage collections data. Joining DRI and becoming part of the DRI network opens a whole range of opportunities to the UCC research community from training and networking events to FAIR data sharing and long-term preservation.
Membership of the DRI assists UCC Library meet its remit to continually develop new services, platforms and collaborations to ensure library services are meeting the growing needs of users.
Speaking before the event Colette McKenna, Director of Library Services, UCC Library remarked;
'Joining the DRI in collaboration with our colleagues in College of Arts, Celtic Studies and Social Science and supporting its use through the Research Data Service in UCC Library provides our researchers with an excellent opportunity to share and showcase their outputs to a wider audience as FAIR Data. Access to a range of expertise and learning opportunities in digital preservation through the DRI network will also be of real benefit to the UCC Community. The collaboration between we in the Library, CACSSS and the DRI is a significant step in UCCs Open Research journey and one we are eager and excited to progress.'
Echoing this Dr Helena Buffery, Vice Head of Research, CACSSS also endorsed the new membership of DRI;
'We are really looking forward to strengthening our connections to the DRI in the important mission of sharing and preserving diverse aspects of Ireland's humanities, social sciences and cultural heritage data. Researchers across the College of Arts, Celtic Studies and Social Sciences at UCC are committed to ensuring the data emerging from their work is made available to widest possible audiences and are keen to enhance their capacity to do so through the tools and training opportunities enabled by the DRI.'
Speakers at the event included: Aine Madden Communications and Engagement Coordinator in the DRI; James Louis Smith a researcher on the Ports Past and Present project in UCC; and Aoife Coffey Research Data Co-ordinator, UCC Library.
During the recording a number of links were shared with participants. These are listed below:
DRI Early Career Research Award
DRI Publications Collection:
https://dri.ie/dri-early-career-research-award
https://doi.org/10.7486/DRI.3b591898r
Zoom link for DRI training for UCC 14 June, 9:30 am – 12 pm:
DRI project Amplifying Change:
https://us02web.zoom.us/webinar/register/WN_teES0VPZQUWP1VdHCeGp2w
https://dri.ie/atlanticphilanthropies/spotlight/amplifying-change
How to DRI: Understanding Administrative Roles document:
Procedure for using DRI in UCC
https://doi.org/10.7486/DRI.2z1195209