News and Events
News and Events
The UCC graduate in the running for an Oscar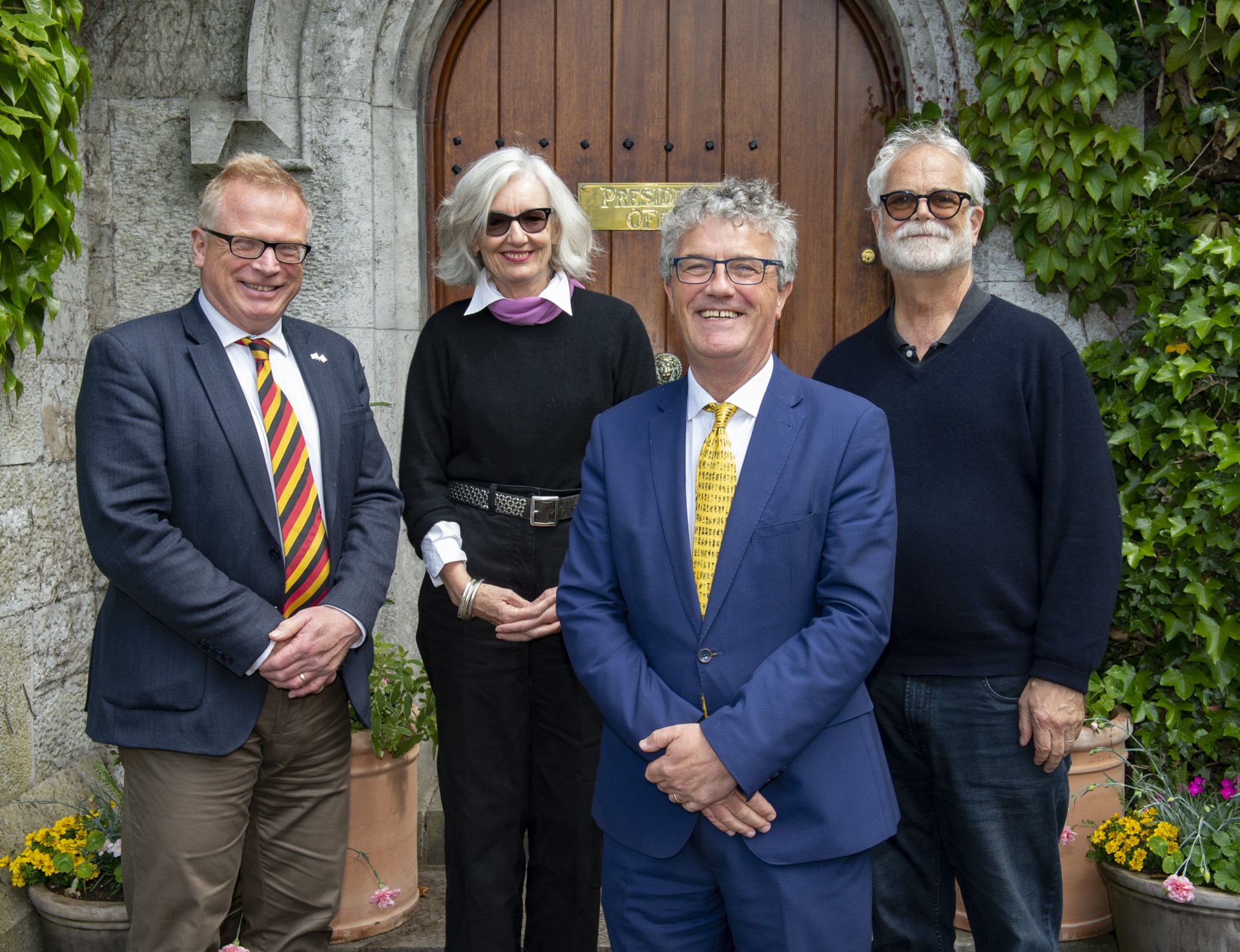 The Banshees of Inisherin and An Cailín Ciúin are not the only hopes for Ireland at Sunday night's Oscars, with a graduate from University College Cork also in the mix for a prestigious Academy Award.
Doug Murray – a graduate of UCC's MA in Experimental Sound Practice – is part of a team nominated for the Best Sound Oscar for their work on The Batman.
We caught up with Doug in the run up to this Sunday's Oscars.
Can you tell us a bit about your background?
I was born in San Francisco, California, and while we moved around a lot while my dad was studying medicine, we ended up back in California, eventually moving back to San Francisco. In high school I started working avidly as a photographer and super 8 moviemaker. I went to California State University at San Francisco which was one of the few film colleges in the US at the time. I went in thinking I wanted to be a director like one of the New Wave French directors or Fellini or Bertolucci, but I came out knowing I wanted to edit. I didn't relish the hurry up and wait activities of the set so I gave up the directing aspirations for the quiet activities in a dark room that shape the dream we experience in the cinema. In the end I found myself being very good at sound work and have worked in that aspect of film post production for most of my career.
How did you end up in Ireland?
Before I got fully into sound I worked at a small San Francisco film production company that made political campaign media for candidates and issues. Our biggest gig was Jimmy Carter's reelection campaign in 1980. While I worked on that I found the love of my life working next door. Bernadette Glenn, whom family and friends call Betch, hailed from Rathmines and had come to San Francisco in 1989 at the age of 21. We quickly fell in love and after the Carter job ended with the landslide Reagan victory I flew to Dublin to visit Ireland for the first time to meet her family. After we married we traveled back to Ireland many many times to visit her family and I became an Irish citizen by marriage. When our kids were born we wanted to spend some time living in Ireland for their sake and for their grandparents Eiḃlin and Gerry Glenn. In the late 1980's I started writing to Irish filmmakers from Morgan O'Sullivan to Neil Jordan to see if there could be some work opportunities for a feature film sound editor in Ireland. The film sound scene on the Island was moribund until after Section 35 was passed in 1987. During the next decade there was a renaissance in film activity in Ireland. Jim Colgan and Paul Moore started the post production sound company Ardmore Sound at the old sound facilities at Ardmore Studios. Pat Hayes had been running that with John Fitzgerald during the slow years, and they stayed on with an infusion of energy from Paul and Jim and financial resources from Enterprise Ireland and private investment. Soon after they had obtained a couple feature film clients, they realized that they needed expertise from an experienced feature film sound editor. Fortunately I found them just as they were searching for someone with my skill set. After a brief trial for both of us the family moved to Dun Laoghaire and then Monkstown for what was initially a one year contract but became a four year stint. While at Ardmore we contracted with Screen Training Ireland to provide a training course for Assistant Sound Editors initially and began the training of a generation of Irish Sound Editors. Other more advanced courses were provided later as the needs arose. We brought editors and mixers from Skywalker Sound and Hollywood to take lead roles on films and to teach our courses. We mixed films by John Boorman, Neil Jordan, Gerry Stembridge, and Peter Sheridan, among many others, as well as TV shows from the BBC and RTE.
How did you end up in UCC?
In the mid 2010's I felt that I was nearing the end of my professional career as a Supervising Sound Editor and Sound Designer for feature films, and thought I'd like to teach at a university film program nearby. A film professor friend knew this and gave my name to someone who was looking for a sound instructor at Cal State San Jose which is near where I live. I told them I'd love to teach a class there in the future, but was told I needed a Master's degree to hold any teaching position at any California State University. That prompted me to seek out a Master's program that would be compatible with my interests and doable in the limited time I had available between jobs. My search extended from California and New York to the UK and Ireland. Somehow I found out about the Experimental Sound Practice MA that was to be offered in the Music Department at UCC for the first time in the 2018/2019 academic year. I couldn't go that year, but I did make contact with John Godfrey who had created the program with Jeffrey Weeter. I liked the sound of the program and applied to attend in 2019 during a break I'd take in my work before my commitment to work on The Batman was to begin in June 2020.
How did you find studying at UCC?
As a mature student at 67 years old I was slightly concerned about how I would make the transition back to being in a challenging academic program. But it didn't take long for me to forget all that as the course was perfectly suited to my interests. The professors and instructors (who were all younger than me) and my fellow students (who were all younger than my children) were very accepting of me and welcomed my diverse set of experiences, as I appreciated theirs. The musical improvisation, composition, collaboration, and realization courses I took incorporated various 20th and 21st century approaches and were challenging and liberating for someone like me who had spent decades working with sound in a very different way. I loved every part of it! A big joy was Máire Ní Chéileachair's Sean-nós course which led to a new appreciation of this style of music and the new pleasure of singing and appreciating hearing others sing in a room with such a maestro. John and Jeff are excellent and inspiring teachers, expanding my technical and artistic boundaries, Karen Power is a successful composer who taught me a whole new way to approach sound recording, and Danny McCarthy is a well recognized sound artist who made us listen in new ways and taught us to think about sound as art in public spaces such as museums, galleries and city streets.
Have you any other non-academic memories of your time at UCC?
I was very attracted to study in Ireland which is so beautiful and welcoming. We have good friends in Cork which made my move there so pleasant. I loved being able to walk everywhere around Cork City. I love to cook and I found the shopping for fresh local food items and Chinese and Indian ingredients to be always rewarding. Mick O'Shea and Irene Murphy's "Guesthouse" offered wonderful opportunities to meet artistically minded people from all over Ireland, Europe, and the world, while offering music, delightful food, and occasional classes on sound and music, all of which I greedily took advantage of. I was becoming part of a very welcoming community of sound artists and other artists. My Brompton folding bike made the bike paths along the River Lee accessible and very enjoyable. I was so fascinated by the "Echo" cries of the street vendor by the Post Office that I recorded him and researched the "Echo Boys of Cork". I made a short sound documentary about him. Sadly I was unable to arrange an interview for the piece. My time in Cork was a very rich experience which was unfortunately cut short in March 2020 by the COVID 19 pandemic.
What films have you worked on?
My imdb page is here: http://www.imdb.com/name/nm0614924/
Some highlights are my work with Matt Reeves: The Batman; War for the Planet of the Apes; Dawn of the Planet of the Apes; Let Me In; Cloverfield. With James Gray: Ad Astra, Two Lovers; We Own the Night. With David Lynch: Twin Peaks, Fire Walk with Me; Twin Peaks Pilot. Other notable films are Seberg; A Cure for Wellness; The Lone Ranger; Hemingway and Gellhorn; Harry Potter and the Goblet of Fire; Duma; K-19; Borstal Boy; The Acid House; Contact; The English Patient; Johnny Mnemonic; etc.
What does it feel like to be an Oscar nominee?
This is my first nomination, and it will no doubt be my last, since I retired right after completing work on The Batman. It gives me a welcome sense of accomplishment to be recognized by my peers with this nomination. It's a very gratifying way to have my career in film sound end. All my formerly Oscar™ nominated friends suggest that I enjoy every minute of the attention and the process. Of course it would be very nice to win the iconic statuette in front of all the stars in the room and a huge live TV audience, but even if I don't it will be a fun party. Rihanna and Lady Gaga will be performing (among others)!
What are your plans for the night of the ceremony?
My wife and daughter are planning to come as my guests. Betch and I will drive down to LA and meet our daughter Lydia there. Lydia and I will head to the Governors' Ball after the ceremonies are over, while Betch plans to return to the hotel. Whenever I have had Lydia with me at a ceremony (Emmy's, MPSE Golden Reels) I have won, so she'll bring good luck. I haven't written any speech, since in the past when I haven't expected to win that's when the victories have very surprisingly happened. And I don't expect to win this award. Our track is rich and detailed and evocative but often more subtle than the other films. Vegas has us in last place in their odds. But they don't know about my secret weapons: Lydia and no expectations. So we'll see.