The Honorable Mr Justice Frank Clarke
The Honorable Mr Justice Frank Clarke
Chief Justice of Ireland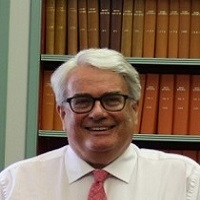 Mr Justice Frank Clarke was appointed by the President as the 12th Chief Justice of Ireland on 28 July 2017. He was appointed to the Supreme Court in 2012 having previously served as a judge of the High Court since 2004. Prior to his appointment to the bench, Mr Justice Clarke had a most distinguished career at the Bar of Ireland, practising mainly in the fields of commercial law and public law, including constitutional law. While at the Bar, he was involved in many significant and high profile cases. He had the distinction of being appointed by the Supreme Court on two occasions as counsel to present arguments in the context of Bills referred to that court by the President pursuant to Article 26 of the Constitution. He served as Chairman of the Bar Council of Ireland from 1993-1995 and as Chairman of the Council of the King's Inns (the body that provides a course of education and training that enables its students to be admitted to the degree of Barrister-at-Law) from 1999-2004. Mr Justice Clarke was a Professor at King's Inns from 1978 to 1985 and has been a bencher of the Honourable Society of the King's Inns since 1995.
Since 2013, Mr Justice Clarke has been a representative of the Supreme Court on the Association of Supreme Administrative Courts of the European Union. On his appointment as Chief Justice, he became a Member of the Network of the Presidents of the Supreme Judicial Courts of the European Union.
Mr Justice Clarke has been an Adjunct Professor at the School of Law UCC since 2014. He delivers lectures, seminars and workshops at the School on a regular basis.
Academic Liaison
Dr Áine Ryall, School of Law