News
News
UCC enters iGEM Competition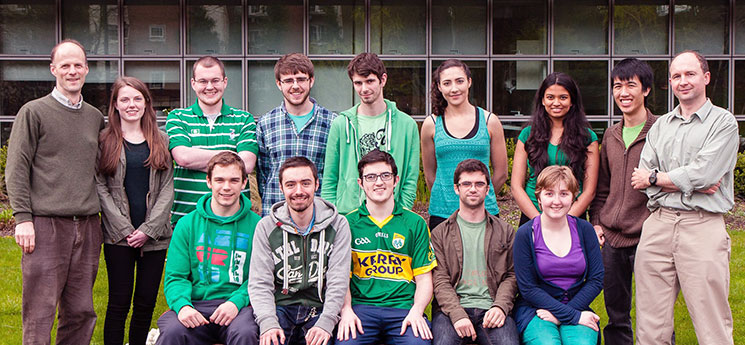 UCC Leads the Way in Synthetic Biology- Students awarded venture capital to form SynBio start-up and compete in international competition.
This month, a group of UCC students will begin a research project that they will enter in the International Genetically Engineered Machine (iGEM) competition. They will be the first Irish team to compete in this prestigious event.
In addition to participating in the iGEM competition, they have set up a company, Benthic Labs, which has successfully secured a place on the SynBio axlr8r programme. SynBio axlr8r offers start-ups expert mentoring, lab space, access to state-of-the-art facilities and 30,000 USD in funding. This funding will support the team's bid at the iGEM competition in Boston, Massachusetts, this November.
The iGEM competition sees student teams given a kit of biological parts at the beginning of the summer. Working at their own universities, the teams use these biological parts, and new parts of their own design, to build biological systems and operate them in living cells.
The UCC team aims to run two innovative synthetic biology projects over the summer, the results of which will form the basis of their iGEM entry.
The first project aims to synthesise a novel biopolymer. By engineering hagfish genes into bacterial cells, the team hopes to produce and purify the proteins that constitute hagfish slime (a gooey substance used by the hagfish for self-defence). These hagfish slime proteins form fibres that exhibit some exciting properties: the fibres are 10 times stronger than nylon, but are 100 times thinner than a human hair; they are antimicrobial and can form a hydrogel. Potential novel applications include the use of the biopolymer as a suture in delicate surgeries, fabric for the textile industry, or an antimicrobial aerosol for surgical instruments and implants, to name but a few. Benthic Labs are hoping to commercialise some of these products.
The second project will involve engineering bacteria to detect specific DNA sequences. In this way, it is hoped that the bacteria could be used to detect pathogenic viruses, for example. This would have applications as an ultra-low cost diagnostic technology.
The interdisciplinary group is made up of students from UCC's College of Science, Engineering and Food Science (SEFS), each with a different focus – Genetics, Chemistry, Biochemistry, Biomedical Science, Mathematics, Physics and Engineering. The team's entry in iGEM is supported by UCC's College of SEFS and was initiated by Dr Paul Young and Professor Tommie McCarthy from the School of Biochemistry and Cell Biology, who will act as the main academic mentors.
The iGEM summer competition, which began with five teams in 2004, has grown enormously over the past ten years. This year, 245 teams from the world's leading universities will take part. The competition is run by the iGEM Foundation, an independent, non-profit organisation dedicated to inspiring education and competition, advancing synthetic biology, and developing an open community with collaboration among students.
SynBio axlr8r is backed by venture capital firm SOSventures and focuses on entrepreneurs building technologies relating to the field of synthetic biology. The programme is sponsoring six start-ups through a three-month period in UCC.
For more information, please contact Dr Paul Young (p.young@ucc.ie; 087-7408586) or Shama Chilakwad (benthiclabs@gmail.com; 089-4946998).