News
News
The Transition Year Class of 2019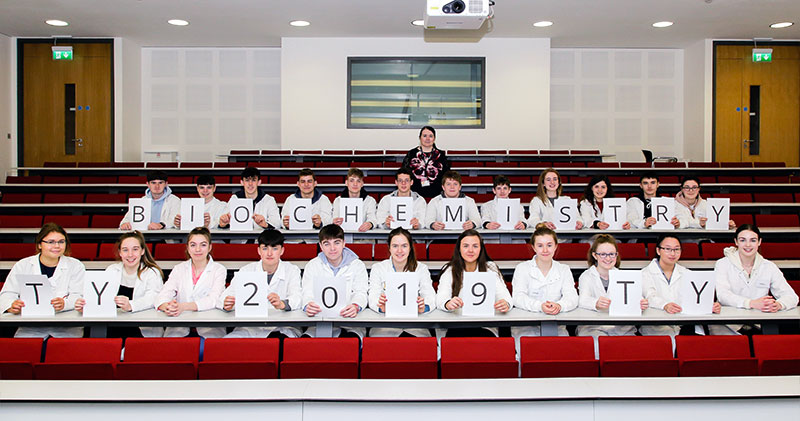 Twenty six students from twenty four different Schools completed the School of Biochemistry and Cell Biology Transition Year programme from the 8th-12th April.
The students conducted a range of experiments throughout the week and developed their team work and presentation skills. The students also attended lectures delivered by Dr Sinéad Kerins on disease detection and Dr Justin McCarthy on how genetic blueprints can be altered.
Dr Kerins would like to thank Noreen Casey, Jenny Duane, Orlagh Fennelly, Trish Fowler and Gavin Kinsley for supervising the students and making the programme such a worthwhile and enjoyable experience for them (link to student testimonials). Dr Kerins would also like to thank Pat Allen for his assistance in setting up the laboratory and Professor Tommie McCarthy for taking the pictures of the students.
The participants that completed the course were:
Eimear Brady
Coláiste Muire, Crosshaven, Co. Cork
Sara Buckley
Ballincollig Community School, Ballincollig, Cork
Arron Callanan
St. Aidan's Community College, Dublin Hill, Cork
Jake Coffee
Bandon Grammar School, Bandon, Co. Cork
Rebecca Cotter
Glanmire Community College, Brooklodge, Co. Cork
Robert Dunne
Davis College, Summerhill, Mallow, Co. Cork
Cordelia Foody
Kinsale Community School, Ballinacubby, Kinsale, Co. Cork
Adam Gray
Christian Brothers College, Sidney Hill, Wellington Road, Cork
Anna Hannigan
St. Brigid's Secondary school, New Street, Monearmore, Killarney, Co. Kerry
Darragh Kelleher
Millstreet Community School, Coomlogane, Millstreet, Co. Cork
Cathal Kelly
De La Salle College, Churchtown, Dublin 14
Conor Lane
Coláiste An Chroí Naofa, Carrig na bhFear, Co. Cork
Grace Lyons
Sacred Heart Secondary School, Clonakilty, Co. Cork
Clodagh Mahon
Mount Mercy College, Model Farm Road, Cork
Aoife McCarthy
Coachford College, Glebe, Coachford, Co. Cork
Cian McCarthy
St. Andrew's College, Booterstown Road, Booterstown, Blackrock, Co. Dublin
James McCarthy
Christian Brothers College, Sidney Hill, Wellington Road, Cork
Aine McGrath
St. Mary's High School, Midleton, Co. Cork
Mariah Meere
St. Angela's College, St Patrick's Hill, Cork
Seoda Ni Chaoimh
Gaelcholáiste Luimnigh, Meal Sior Anraí, Cathair Luimnigh, Luimneach
Natalia Nowak
Presentation Secondary Mitchelstown, Co. Cork
Lien O'Brien
Christ King Girls' Secondary School, Half Moon Ln, South Douglas Rd, Cork.
Barry O'Donovan
Hamilton High School, Allen Square, Bandon, Co. Cork
Grainne O'Shea
Ballincollig Community School, Ballincollig, Co. Cork
Kate O'Shea
Gaelcholáiste Choilm, Poulavone, Ballincollig, Co. Cork
Thomas Otway
Coláiste an Spioraid Naoimh, Bishopstown, Cork