News
News
The Transition Year class of 2017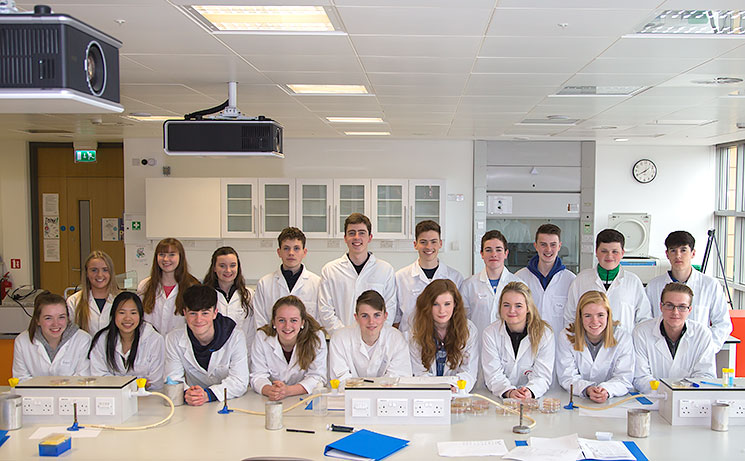 The School of Biochemistry and Cell Biology run their Transition Year Programme in April each year since 2005.
The following students applied to Dr Sinéad Kerins and were awarded a place on the Transition Year Programme this academic year, April 2017:
Conleth Aspel, Colaiste Treasa Kanturk, Co. Cork
Dan Beechinor, Pobalscoil na Tríonóide, Youghal, Co. Cork
Susan Burke, Mount Mercy College, Co. Cork
Rory Collins, Gonzaga College, Dublin
Kate Corcoran, Colaiste an Phiarsaigh Glanmire, Co. Cork
Lucy Chapman, Mount Mercy College, Cork
Tadhg Doolan, St Brendan's College, Killarney, Co. Kerry
Gustas Dovainys, Douglas Community School, Co. Cork
Tom Dowling, Rockwell College, Cashel, Co. Tipperary
Sarah Elliffe, Carrigaline Community School, Co. Cork
Eimear Joyce, Ursuline College, Sligo
Harry Knoblauch, St Brendan's College, Killarney, Co. Kerry
Caoimhe Lyons, St. Aloysius College, Carrigtwohill, Co. Cork
Sadhbh McCarthy, Mount Mercy College, Cork
Eoin Murphy, Colaiste an Spioraid Naoimh, Bishopstown, Co. Cork
Edward O' Connor, Coláiste Choilm, Ballincollig, Co. Cork
Patrick O'Connor, Coláiste Cholmcille, Ballyshannon, Co. Donegal
Roisin O'Leary, Christ King, Turners Cross, Co. Cork
Darragh O'Mahony, Christian Brothers College, Cork
Grace Roche, Presentation Secondary School, Mitchelstown, Co. Cork
The Transition Year Programme was designed in 2005 and offers students an opportunity to complete a wide variety of experiments, and gives them an insight into the research conducted in the School of Biochemistry and Cell Biology. Students were taught for example how to use pipettes, pH meters, prepare agar plates, perform DNA extractions and agarose gel electrophoresis. The students also developed team and presentation skills, and on the final day they gave group PowerPoint presentations of their experimental results to some of the staff in the School. Dr Kerins would like to thank Noreen Casey, Jenny Duane and Trish fowler for supervising the students and providing assistance and advice to the students throughout the week. Dr Kerins would also like to thank Dr Justin McCarthy for delivering a lecture to the students entitled "Altering your Genetic Blueprint" and Mary Heapes for taking all the fabulous photos.
Student testimonials
'Very interesting week! I learned a lot of new things and I really enjoyed it. I've also made some really good friends from doing this placement.'
Conleth Aspel
'The entire week was fantastic. From start to finish we had the pleasure of working on really interesting experiments and learning lots about the world of Biochemistry. Everything was clearly explained and the help from the hands on technicians made life so much easier. Each day was really enjoyable and I had so much fun meeting new people and working alongside them, I am very grateful to have been here and the week has really opened my eyes to a possible future in science.'
Rory Collins
'This was a fantastic week. It was great to experience working in a lab in such a fun and friendly environment. I learned loads and it was really interesting. I would definitely recommend this course to next year's TYs.'
Lucy Chapman
'I took part in the TY Biochemistry course in April 2017. We completed many experiments with the technicians and listened to lectures given by Dr Kerins and Dr McCarthy. We all made many new friends who we worked with at the benches during the week. I highly recommend this course.'
Tadhg Doolan
'I had an absolutely amazing week in the School of Biochemistry and Call Biology. We partook in so many experiments and activities that were all so engaging. I really enjoyed that the whole experience was hands on, it really gave me an idea what my future could be like in such an environment. There was loads of group work that helped us bond together. The whole programme was absolutely incredible. Jenny and Noreen did an astonishing job of explaining how to do the experiments and why we were doing them. Overall the experience I've gained here is priceless and will definitely factor into my future self.'
Gustas Dovainys
'I really enjoyed the Transition Year Programme, we got to do loads of interesting experiments and we learnt why we were doing them. I got a feel for college life by going to the lectures and getting a tour of UCC. It was a very informative week and I now know that I want to pursue a career in science.'
Sarah Elliffe
'I had a great week, the experiments and the whole course was really interesting. Everyone was really nice and I made loads of new friends.'
Eimear Joyce
'I really enjoyed my week in the lab. I thought it was a great experience and I enjoyed every experiment especially the sickle cell anaemia experiment. I made lots of new friends and I would recommend this course to anyone with any kind of interest in Biology or Chemistry.'
Patrick O'Connor
For more on this story contact: