News
News
Team event with a successful outcome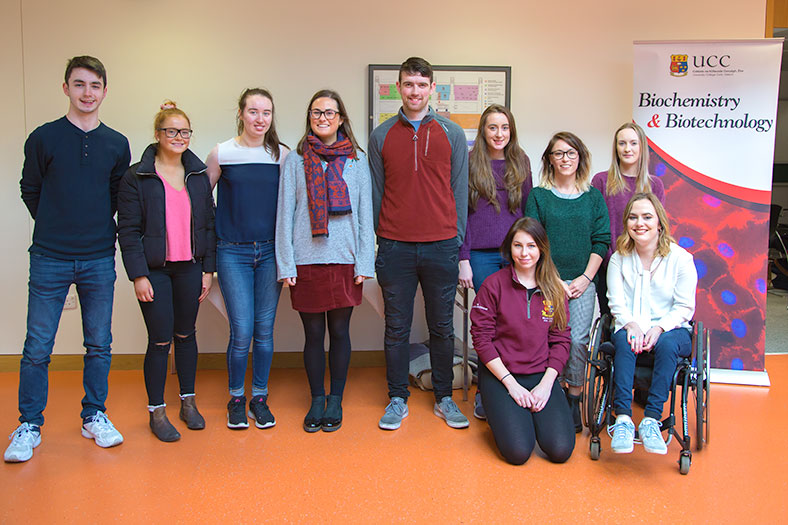 Congratulations to the Biochemistry and Biotechnology Society who raised €2000, by running DNA workshops for secondary school students in order to raise money to assist their fellow classmate Éabha Wall.
Éabha is a fourth year Biochemistry student who has cerebral palsy. She travelled to America to be fitted for 'Exosym', or how she likes to put it, 'to become bionic!'. Exosym is "a hybrid prosthetic-orthotic device combined with a specialised care program. This innovative limb salvage solution is designed to help patients achieve freedom of movement and relief from chronic pain.
A coffee reception was held in Western Gateway Building on Thursday 30 November 2017 by the Biochemistry and Biotechnology Society, to present Éabha with a cheque for €2000. Éabha was extremely appreciative of all support and looking forward to being fitted with 'Exosym'.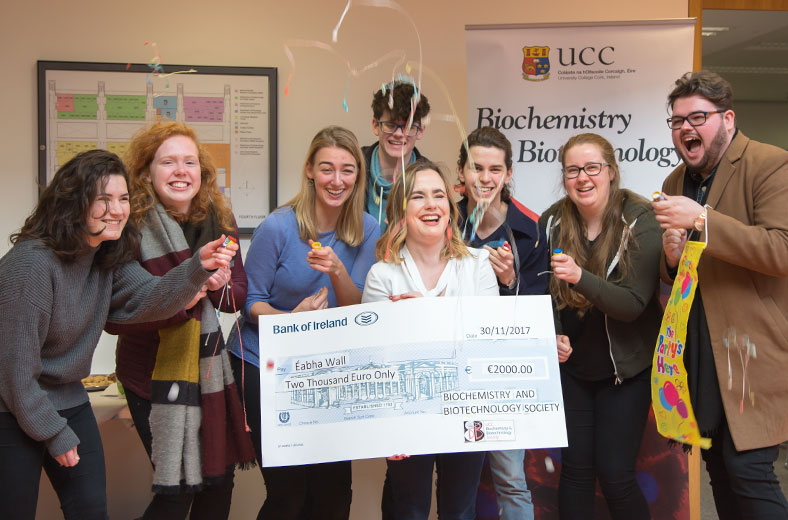 Éabha Wall, Fourth year biochemistry student celebrating with her friends after receiving a cheque for €2000.00 presented to her by the UCC Biochemistry & Biotechnology Society.
Dr Kerins would like to thank Cathal Cusack, Katie Cooke, Sophia Egan, Leonie Kiely, Laura Linehan, James Moone, Gillian Murphy, Katie O Connor, Laura Smith, Amina Syed, Cliodhna Wallace and Klaudia Wozniak who demonstrated the DNA workshops to students from both Presentation Brothers College and Bandon Grammar School. Also thanks to Christopher Bannon, Chloe Darragh-Hickey, Jack Kennedy, Daniel Moore, Luke Mulligan and Fearghal O'Nuallain who demonstrated the workshop on the 5th October to Presentation Brothers College students. The demonstrators did an exceptional job making the students' visit to the School of Biochemistry and Cell Biology, not only an educational experience but a very enjoyable one, too.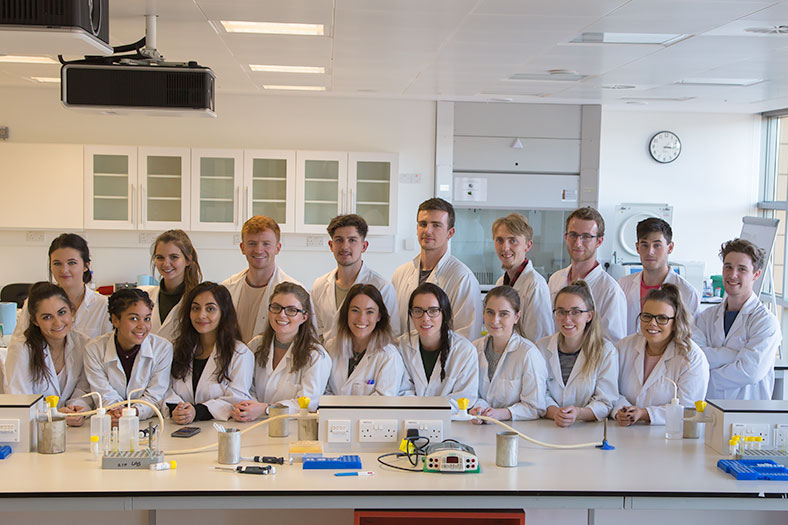 Fourth year biochemistry group of students who demonstrated at the DNA workshop held in the School of Biochemistry UCC to Presentation Brothers College secondary school students. Demonstrators were (back row from left): Katie O Connor, Laura Linehan, Fearghal O'Nuallain, Christopher Bannon, Luke Mulligan, Jack Kennedy, Daniel Moore, Cathal Cusack and James Moone. Demonstrators (front row form left): Leonie Kiely, Sophia Egan, Amina Syed, Gillian Murphy, Cliodhna Wallace, Laura Smith, Klaudia Wozniak, Chloe Darragh-Hickey and Katie Cooke.
This was a team effort involving students, technical and academic staff, with Trish Fowler and Pat Allen setting up for the DNA Workshops, Mary Heapes taking the pictures of the students during the workshop and Dr Sinéad Kerins delivering the pre-workshop lectures.
One hundred and twenty-three students attended and completed the workshops and feedback from the students and teachers was really excellent.
Éabha Wall, 4th Year Biochemistry student 2017-2018.
For updates on Éabha, please see her GoFundMe page (no longer accepting donatioins): Eabha's Exosym Fund:Becoming Bionic.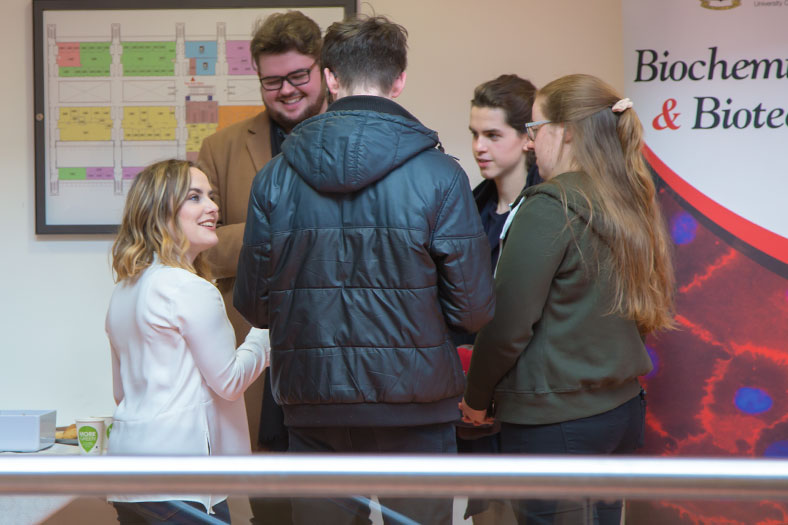 Éabha chatting with friends at the coffee morning.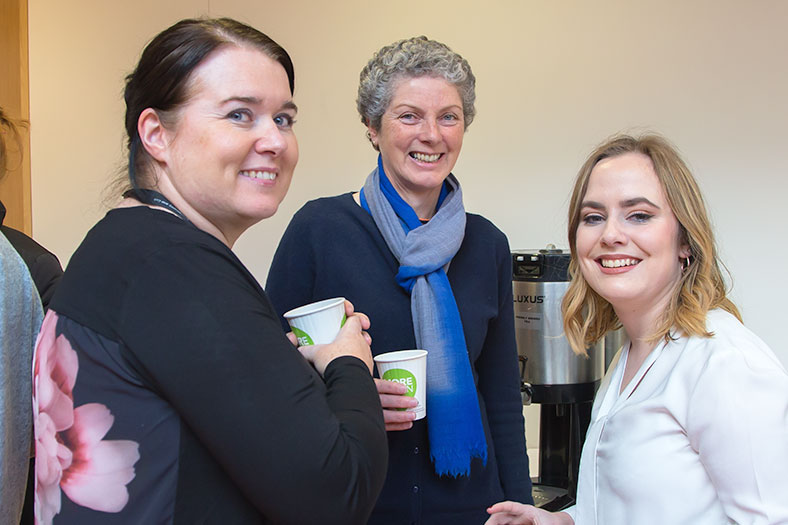 Dr Sinéad Kerins and Professor Rosemary O'Connor (Head of School), School of Biochemistry and Cell Biology, UCC chatting with Éabha at the coffee morning.