News
News
MSc in Biotechnology ranked as 3rd most popular postgraduate course in UCC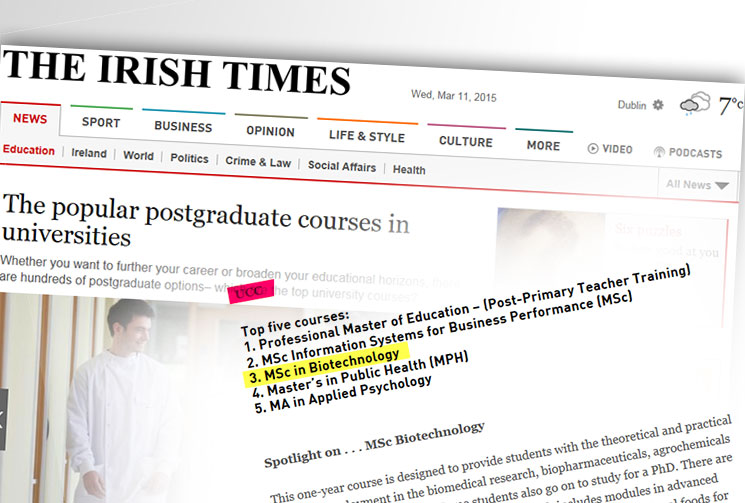 The MSc in Biotechnology was profiled in today's Irish Times and ranked 3rd in the top 5 postgraduate courses in UCC.
MSc in Biotechnology
This one-year course is designed to provide students with the theoretical and practical skills for employment in the biomedical research, biopharmaceuticals, agrochemicals and biotechnology industries. Some students also go on to study for a PhD. There are currently around 40 students on this course, which includes modules in advanced molecular microbial biotechnology, cell and molecular biology, functional foods for health, genetic engineering and biopharmaceuticals. Students attend six months of lectures, lab sessions, career workshops and industry seminars before going on to complete a six-month research project.
This is UCC's most popular MSc course. The curriculum is industry-led, and students can complete a six-month placement in industry or an academic research laboratory. Each year, more than 70 per cent of UCC's students gain employment while about 20 per cent of graduates progress to international PhD s.
Applicants must have a minimum 2.2 honours degree or equivalent in subjects related to the Msc programme. Consideration will also be given to graduates with relevant industrial experience. Cost: €7,000.
Further information
For further details, please see the Admissions' Office information for the MSc in Biotechnology programme and the College Calendar entry.
Please view the brochure for MSc in Biotechnology (2,945kB).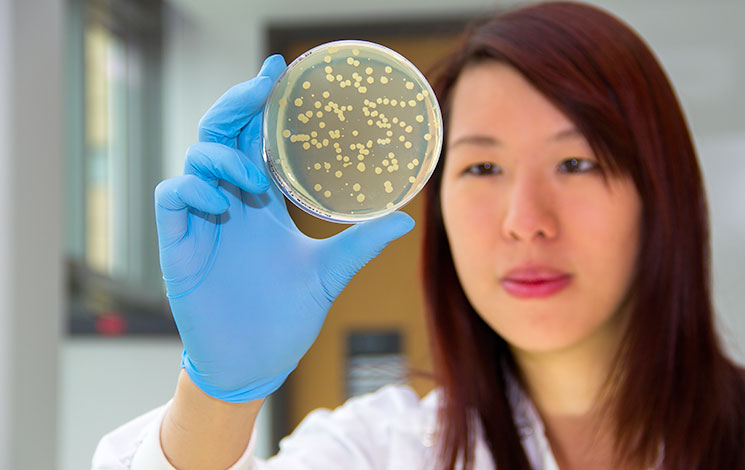 Photo credit: Mary Heapes, School of Biochemistry & Cell Biology.