News
News
Hot off the Press! Recent Research Publications from the School of Biochemistry and Cell Biology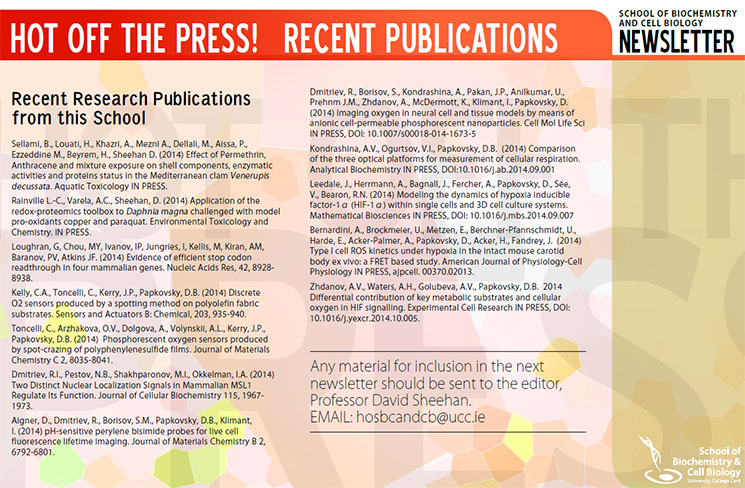 Keep up-to-date with recent Research publications from this School - they are published in our monthly newsletter.
Berghoff J, Jaisimha VA, Duggan S, MacSharry J, and McCarthy JV. (2015). Gamma-Secretase-Independent Role for cadherin-11 in Neurotrophin Receptor p75 (p75NTR) Mediated Glioblastoma Cell Migration. Molecular and Cellular Neuroscience. [Epub ahead of print].
Agrawal V, Sawhney N, Hickey E, McCarthy JV. (2015). Loss of Presenilin 2 Function Is Associated with Defective LPS-Mediated Innate Immune Responsiveness. Molecular Neurobiology. [Epub ahead of print].
Duggan SP, Yan R, McCarthy JV. (2015). A ubiquitin-binding CUE domain in presenilin-1 enables interaction with K63-linked polyubiquitin chains. FEBS Lett. 589(9): 1001-8.
McDonald, F.B., Williams, R., Sheehan, D. ,O'Halloran, K. (2015) Early life exposure to chronic intermittent hypoxia causes upper airway dilator muscle weakness which persists into young adulthood. Experimental Physiology, 100, 947-966.
Sellami, B., Aouani, I., Maalaoui, A., Dellali, M., Aïssa, P., Touil, S., Sheehan, D., Mahmoudi, E., Beyrem, H. (2015) Effects of 2-(4-Methoxyphenyl)-5, 6-trimethylene-4H-1, 3, 2-oxathiaphosphorine-2-sulfide on biomarkers of Mediterranean Clams Ruditapes decussatus. Ecotoxicology and Environmental Safety, 120, 263-269.
Murphy, A.C., Young, P.W. (2015) The actinin family of actin cross-linking proteins – a genetic perspective. Cell Biosci., 5, 49.
Ning, Z., McLellan, A.S., Ball, M., Wynne, F., O'Neill, C., Mills, W., Quinn, J.P., Kleinjan, D.A., Anney, R.J., Carmody, R.J., O'Keeffe, G., Moore, T. (2015) Regulation of SPRY3 by X chromosome and PAR2-linked promoters in an autism susceptibility region. Hum. Mol. Genet., 24, 5126-5141.
Book chapters/Reviews
Bebiano, M.J., Sheehan D., Gomes T. (2015) Protein expression profiles in marine organisms exposed to nanoparticles, In: Environmental Problems in Marine Biology: Methodological Aspects and Applications (T. Garcia-Barrera, ed.), Taylor Francis, Boca Raton, IN PRESS.
Sheehan D. (2016) Nanomaterials as an emerging category of environmental pollutants, In: Transdisciplinary Perspectives on Transitions to Sustainability (C. Sage, E. Byrne, G. Mullally eds.) Taylor & Francis, Farnham. IN PRESS (ISBN: 978-1-4724-6295-4).
Proceedings, conference papers
Joan Lenihan, PhD student in Paul Young's laboratory gave an oral presentation entitled "Characterisation of LNX family E3 ubiquitin ligases" at the 9th Neuroscience Ireland Conference held in Dublin City University which was held 1st-2nd September.
Dr Susan Joyce. International Scientific Conference: Probiotics and Prebiotics, Budapest, 21-23 June 2015.
Dr Susan Joyce, gave an oral presentation entitled "Microbially mediated bile alterations affects host metabolism" at the World Conference on Targeting Microbiota, Paris, 21-23 October.