News
News
Exciting Scholarship Opportunity for STEM Students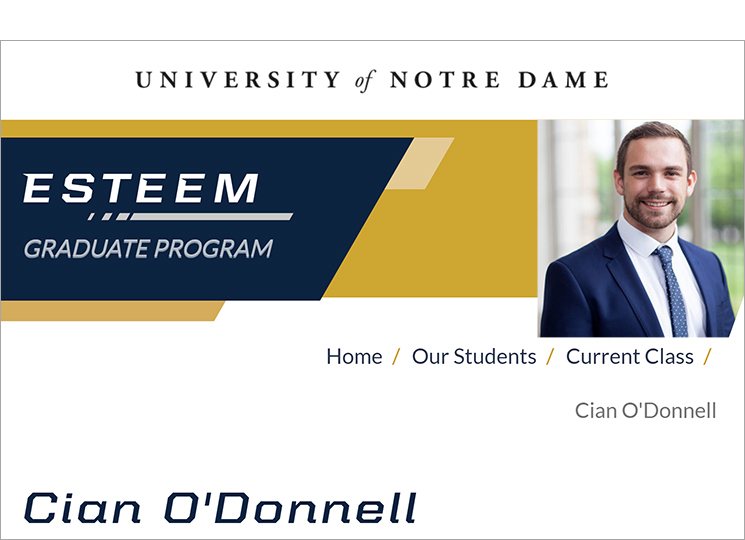 Science, Engineering, Technology and Maths Entrepreneurship Excellence Masters Program (ESTEEM) at the University of Notre Dame, Indiana.
BSc Biochemistry graduate 2017
Cian O'Donnell is a 2017 Biochemistry graduate who is currently completing the 'Engineering, Science & Technology Entrepreneurship Excellence Masters' (ESTEEM) programme at the University of Notre Dame, Indiana. The ESTEEM programme is designed to launch graduates into positions of leadership at the intersection of business and innovation.
When Cian returned for his conferring ceremony, he hosted an information seminar, on Wednesday 18th of October, for students interested in the 11-month ESTEEM programme. Cian also provided information about the Naughton Fellowship. Through the Naughton Fellowship, Irish students can earn a full tuition scholarship, a full health insurance subsidy for the sponsored student insurance plan, and a $17,000 USD stipend for living expenses. Irish undergraduates who wish to apply for the fellowship must first apply to the ESTEEM program at Notre Dame.
Dr Sinéad Kerins and Dr Justin McCarthy, from our School, were in attendance at the presentation.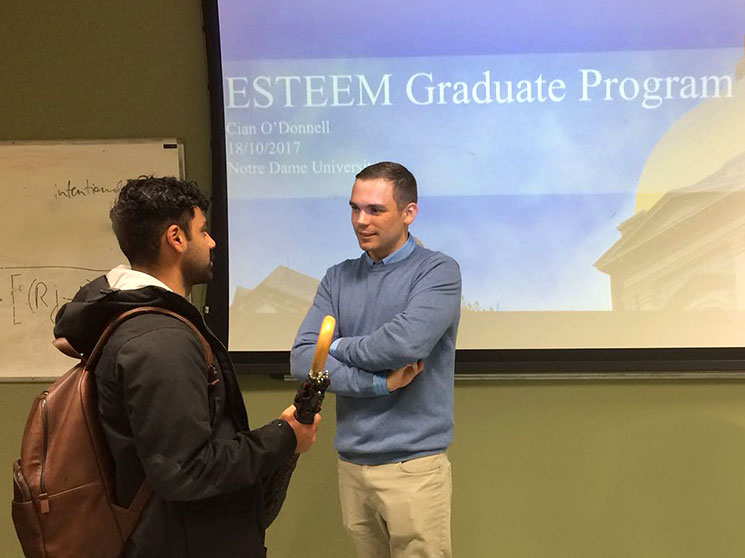 Cian O'Donnell discussing the ESTEEM programme with a student.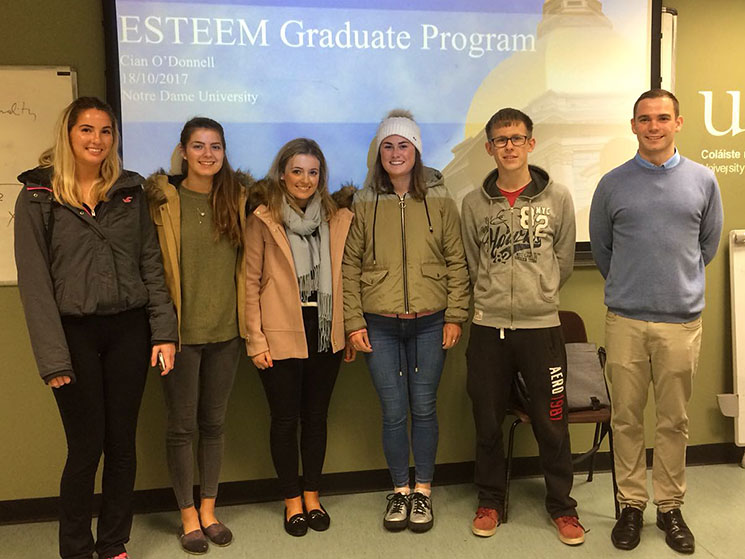 Third Year Biochemistry students with Cian O'Donnell (far right): Cliona O'Callaghan, Rachel O'Leary, Nicola O'Riordan, Claire Cronin, Ciarán Murphy.
BSc Biochemistry graduate 2016

In 2016, David Hardwicke, BSc Biochemistry graduate (2016) and ESTEEM student, returned to UCC and made a similar presentation, which Cian attended and found hugely beneficial.
After ESTEEM, David co-founded Structured Immunity; a protein engineering company dedicated to serving the leading biopharmaceutical companies in the T cell therapy industry.
Dr Sinéad Kerins and the School of Biochemistry and Cell Biology would like to wish David every success in this venture.
Testimonials
See both David's and Cian's testimonials for the BSc in Biochemistry.