Athena SWAN Highlights 2018
Athena SWAN Highlights 2018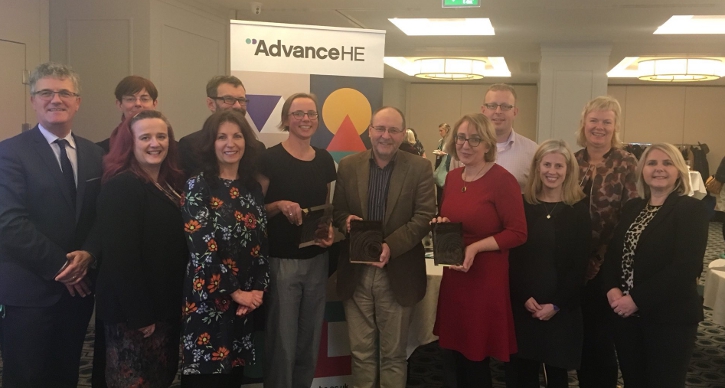 We are proud that the School of BEES has received an Athena SWAN Bronze award in April 2018 for our commitment to gender equality. As part of our application, we developed a three-year action plan to improve working conditions and career development for all of our students and staff further. Implementation of this action plan got off to an excellent start. Before we had even received notification of our Athena SWAN award, Geology staff and students had taken action to increase female participation: academic staff and PhD students were involved in the launch of the Irish Association for Women in Geosciences which was held at UCC on 24th February. The inaugural Girls into Geoscience - Ireland, an event to increase female student interest in Geology, took place on 10th March (for report see here). In addition, BEES hosted a pizza party by Women in Technology and Science on 19th February to support the careers of female STEMM students.

Having been notified of the award at the end of April, we celebrated with cake and some bubbly on 9th May. Celebrations did not stop there, and it was a pleasure to join John O'Halloran (UCC Deputy President and Registrar), Ann King (Athena SWAN Project Officer), Helen O'Donoghue (SEFS HR Business Manager) and our colleagues from Chemistry and Pharmacy at the official awards ceremony in Dublin on 14th November.

Since we received the award, our BEES Athena SWAN Steering group continued to meet on a regular basis, and we have made further progress with implementing our action plan. For example, we worked together with Helen O'Donoghue and our Chemistry colleagues, Claire Tobin and John Wenger, to develop an exit questionnaire for staff that leave UCC, with the aim of obtaining feedback how we can improve our procedures and also to find out more about the career progression of our researchers. To encourage more social interaction within the School, our monthly coffee mornings have been revived, and all staff and postgraduate students are now invited. The postgraduate students, in turn, have invited staff to the BEES Research Club, which included presentations by staff about Athena SWAN, how to produce a professional CV and how to apply for a postdoc position. Career development sessions were also held for undergraduate students with our colleagues from SEFS and the Careers Service giving advice on "Your BEES degree – what next?" and "Life after 4th year – postgraduate options". Our action plan highlights the need for additional support for 2nd-year undergraduate students, and several sessions were held for the various BEES degree programmes to present information about what is expected of the students and supports available to help them achieve their potential. With academic promotions rounds coming up next year, we want to ensure that eligible academic staff are well prepared for the process, and all academic staff in BEES have been allocated a mentor to assist them.
So what are our plans for the next year? In 2019, we are planning to organise an undergraduate student survey with the aim of finding out more about how best to teach and support our students. There will also be a focus on researcher career development in collaboration with the UCC Postdoc Development Hub. In addition, we need to start planning for the next application in 2020 under a new charter that puts more emphasis on the careers of administrative and technical staff. We are aiming to apply for a Silver award, which requires that we can demonstrate impact of our action plan on equality, working conditions and career options for all students and staff in BEES.