News
News
Student Entrepreneur Awards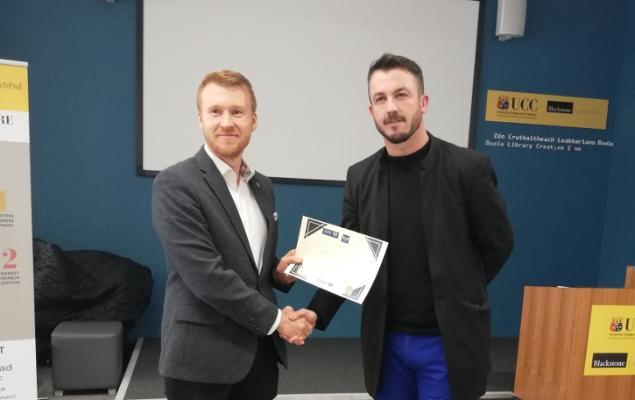 BEES 4th Year undergraduate Simon Jeggo has won an entrepreneur award for his fouth year project.
Last Friday saw the culmination of the 2019 UCC Student Entrepreneur Awards, when the live pitches took place in the Creative Zone of UCC's Boole Library.
The Best Emerging Business Award was won by Simon Jeggo for his business SJ Innovations. SJ Innovations aims to improve methodologies and data acquisition practices within the Geo-environmental sector by utilising scientific principles, innovative ideas and forward-thinking engineering design to produce powerful field equipment. 21st century solutions to 21st century problems. Simon is a 4th Year Geology student in UCC's School of Biological, Earth and Environmental Sciences in the College of Science, Engineering and Food Science.
Entries were received from across all four UCC Colleges and the External Evaluation Panel were extremely impressed with the calibre of the applications and the quality of the presentations that were delivered. The promoters of 11 projects were shortlisted to pitch in front of an External Evaluation Panel, consisting of Gary Wade (Cork School of Economics), Joe Burke (LEO South Cork) and Pádraic Valley (Social Innovation Fund Ireland).
The 2019 Awards were promoted and organised by UCC's Entrepreneurship Implementation Group, UCC Entrepreneurial & Social Society and EnactusUCC. It was the first year that EnactusUCC were involved, which is an important development given the important role that social enterprises play in Irish society and the economy at large.
It was an honour and a pleasure to represent the school at this event. Thank you @uccBEES and the Geology department for all the support and notably Dr Ed Jarvis, @DrJJWeatherill and @DrJeanODwyer for their encouragement and support throughout the process. https://t.co/E8Brw9v2JE

— Simon Jeggo (@Simon_Jeggo) April 6, 2019
The following is a synopsis of Simon's award-winning Fourth Year Project:
Conceptualising shallow groundwater contaminant pathways in high vulnerability fractured bedrock aquifers
Streambed temperature mapping is used to measure the groundwater-surface water interface to locate potential entry points of isothermal groundwater into stream/river beds. Points of upwelling can then be used to map groundwater/contamination pathways. Current methods employ the use of a temperature probe measuring 0.2 m, recording data in a 1 m by 1 m grid within a waterbody. The data is acquired by driving a temperature probe in to the streambed, firstly to 0.1 m, then repeated at 0.2 m. Followed by a notation of the grid reference to coincide with data points. The method is repeated across the waterbody.
Problem
The current method is achieved while standing within a water body. Not only is the method laborious and time consuming, it involves recoding of multiple data points from multiple devices while in an environment has the potential to destroy data and equipment. Moreover, to injure the lower back with repetitive measurements. The number of individual pieces of equipment required to conduct the survey are numerous, such as notebooks, pens and pencils, GPS, temperature probes, conductivity meters, PH meters ect. Furthermore, the equipment has a potential high cost implication if lost or damaged to the water. For example, a personal recreational GPS unit cost more than €350 euro in 2017 (Garmin GPSMAPS 64s) and temperature probes can cost hundreds of euro.
Solution
Following the realisation that the method would require replication in the field for the forthcoming final year project (FYP), the decision was made to search for an alternative method to record such data with a lower financial, health and data loss risk. However, research into streambed mapping indicated the method presented was the accepted method of data question. Furthermore, no equipment is in existence to elevate the issue and record spatial data salaciously. After considering these facts I began to consider the possibility of developing a device that uses a cross-disciplinary approach to the problem.
The resulting novel roaming device utilises multiple environmental sensors and GPS controlled by a computer program, ran on an imbedded raspberry pi computer, that records temperature and spatial data to a USB key, mounted on top of the device, by pressing one button. The resulting file can then be input directly in ArcGIS for analysis. The device was built using off the shelf components such as UPVC waste pipe ,engineered nylon and 304 stainless steel. However, also uses bespoke computer aided designed parts that were manufactured using a desktop 3D printer. Despite the component, the device was constructed over a 6-month period and cost less than €300 to construct.
The device has proven successful over a 6-month field trial. Development of the device continues and aiming to add more sensors in the futures, such as SEC and PH, and a water sample recovery system added to the 0.2 m probe.
Deep into data collection now. Probe rig is holding up strong. There are some interesting things coming out of this site. @uccBEES @UCCEnvScience @DrJJWeatherill pic.twitter.com/TyEjoNfX0a

— Simon Jeggo (@Simon_Jeggo) July 24, 2018
Teaching & Learning @uccBEES fosters innovation, project management, lateral thinking and theory into practice. We're honoured by @uccBEES BSc Geology final student Simon Jeggo winning Emerging Business category based on his FYP in the ucc entrepreneurship 2019 awards @eriucc pic.twitter.com/ofQDRO2hG7

— Andy Wheeler (@AndyWhe22227280) April 6, 2019