News
News
Minister Harris announces €28 million investment in iCRAG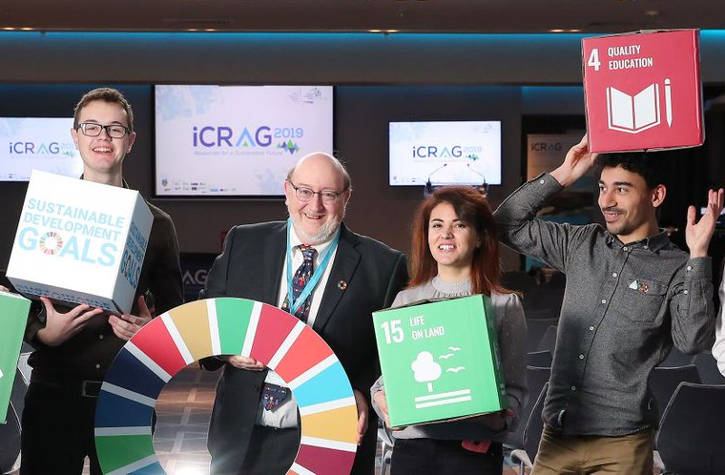 Minister for Further and Higher Education, Research, Innovation and Science, Simon Harris TD today announced an investment of €28 million in the iCRAG SFI Research Centre for Applied Geosciences hosted at University College Dublin. UCC is one of eight partner institutions that comprise iCRAG.
The iCRAG investment is part of a €193 million investment announced by Minister Harris TD in five Science Foundation Ireland Research Centres for six years. This investment by SFI will support approximately 1,060 graduate and post-doctoral students and research fellows employed by the Centres, including over 130 researchers by iCRAG across eight research institutes.

The investment is further backed by significant industry support from 200 industry partners committing over €91 million in cash and in-kind contributions.

Speaking today, Minister Harris said: "I am delighted to announce this significant Government investment in five SFI Research Centres, which reflects Ireland's position as a world leader in research and innovation.

"The investment will ensure that we are prepared for the changes and disruption that we are facing in addressing global societal and economic challenges.

"SFI Research Centres promote discovery and impact, as well as collaboration between academia, government and industry across the Island of Ireland and internationally.
Prof Mark Ferguson, Director General Science Foundation Ireland and Chief Scientific Adviser to the Government of Ireland, said: "To maintain and build on Ireland's global standing in research, innovation, and discovery, it is crucial that we invest in excellent ideas and research with impact. SFI Research Centres support both basic and applied research, spanning a wide range of sectors at varying levels and stages, and as a country we have benefited from their considerable contributions in the recent Covid-19 pandemic.

iCRAG Director, Professor Murray Hitzman, UCD School of Earth Sciences, said, "SFI's new funding to our Centre means that we can expand our research efforts to help Ireland reach carbon neutrality by 2050. iCRAG will continue to work with industry partners from across Ireland and the world to help meet global environmental targets."

The funding announced today will enable iCRAG to drive research in areas that are critical to society and the economy across three Grand Challenges: Earth System Change, Earth Resources and Earth Science in Society. These areas include the sustainable discovery of energy resources and raw materials required for decarbonisation, climate change mitigation and adaptation, securing and protecting groundwater and marine resources and protecting society from Earth's hazards such as flooding and landslides.