News
News
Long-term population monitoring used to study Atlantic salmon evolution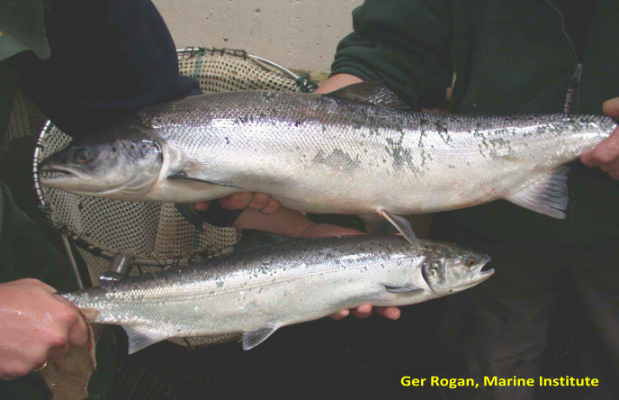 Ronan O'Sullivan, a PhD student in the School of BEES, along with an international team of collaborators have published research examining how evolution may be measured in a free-living population of Atlantic salmon.
The research (which represents a collaboration between UCC, ERI, the Marine Institute, QUB, UCD, University of Edinburgh, and University of Helsinki) uses quantitative genetics to explore a discordance between observed and predicted rates in the evolution of body size in female salmon from the Burrishoole catchment in Co. Mayo. "The monitoring of Atlantic salmon at Burrishoole provides researchers with an incredible source. It is only with such long-term studies that we are able to observe the inter-generational evolutionary dynamics of species", said Mr. O'Sullivan.
The research is published in Ecology and Evolution and is Open Access: O'Sullivan et al 2019.
Congratulations to our colleague Ronan O'Sullivan @uccBEES and co-authors on their publication. Check it out here:https://t.co/8NCcPDPk3e

— FishEyE (@FishEcoEvo) June 12, 2019
Evolutionary stasis of a heritable morphological trait in a wild fish population despite apparent directional selection
O'Sullivan et al @uccBEES @MarineInst @FishEcoEvo #fishsci #salmon #ecoevo #BurrishooleLTERhttps://t.co/rttont2y7y pic.twitter.com/w4k6WfKN1s

— Elvira de Eyto (@edeeyto) June 12, 2019