News
News
Ireland's Deep Atlantic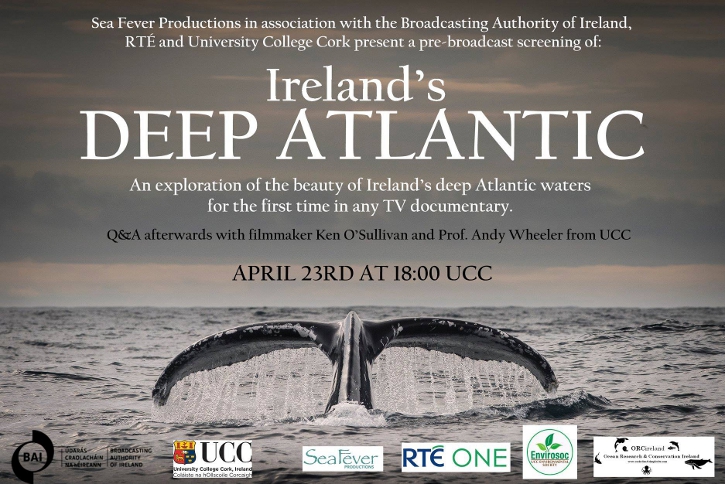 Several BEES scientists will feature in a new two-part documentary on 'Ireland's Deep Atlantic' this weekend.
The first episode of Ireland's Deep Atlantic will air on RTE1 television on Sunday the 22nd April at 9.30pm. The second episode will be broadcast on the 29th April at the same time but UCC will host a special one-off screening of the 2nd episode on Monday 30th April at UCC in Boole 3 at 6pm. There will be a special Q&A session afterwards with Ken O'Sullivan and Prof. Andy Wheeler.
Get ready to dive 2000 metres into Ireland's Deep Atlantic this Sunday at 9:30pm #OurWildIsland pic.twitter.com/vWdJrc3L9l

— RTE One (@RTEOne) April 19, 2018

The second episode will feature Róisín Pinfield (PhD candidate) and Mick Mackey (previously MaREI) in the spotter plane flying over the shelf edge west of the Mullet peninsula. Co. Mayo looking for large blubber!!
Well i just cannot wait for this....Ireland's Deep Atlantic: Ken O'Sullivan on his incredible new doc @CleanCoasts @EcoEye https://t.co/PEIY59IlwQ via @rte

— Annabel FitzGerald (@BellesFitz) April 20, 2018

The series features geological research undertaken by Prof Andy Wheeler (BEES) and shows images of coral in a submarine canyon at 2000m depth taken by an ROV (remotely operated vehicle) deployed from the R.V. Celtic Explorer.
This documentary is full of beautiful footage by Ken O'Sullivan and his dedicated team who persisted with it for four years to showcase what we have here in Irish waters! Definitely worth a watch!