Darren Reidy wins Science for All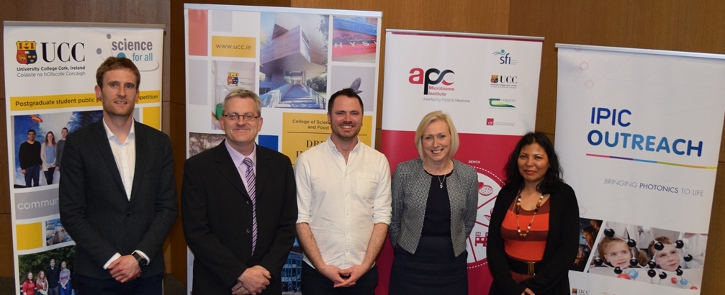 BEES PhD student Darren Reidy has won the 13th annual Science for All competition.
Darren impressed the judges with his talk, "Swimming with the Enemy; Getting to Know the Aliens in Our Rivers & Lakes" based on his PhD research. The science communication competition, now in its 13th year, challenges young scientists to share the excitement of their research with the general public in an easily understandable manner, without using jargon.
The panel of judges was chaired by Mr John Dolan, Features Editor, Evening Echo and also included Ms Liz Dooley, Director Operations (Biologics) Janssen and Ms Donna O'Driscoll, Director of Marketing & Communications, UCC.
Professor Paul Ross, Head of the College of Science, Engineering and Food Science, UCC said "The Science for All Competition is a great medium for students to acquire or enhance their communication skills and competencies. It provides them with a wonderful platform to showcase their research and relay their passion and knowledge on their subject matter to the general public in a relaxed and educational manner".
Speaking before the final, Darren stressed the importance of science communication: "I firmly believe that scientific research will only achieve its full potential if communicated to the correct audience in the correct manner. By doing this, as scientists, we can affect change, inform social behaviour and guide policy."
Prior to commencing his PhD, Darren worked for a number of years as an Education Officer in Killarney National Park and as a Science/Nature Broadcaster with Radio Kerry. Born and raised in Listowel, Kerry, with a love for the lakes and mountains, Darren is currently completing the final year of his PhD in the School of Biological, Earth & Environmental Sciences (BEES), University College Cork, funded by the Environmental Protection Agency.
MC for the final was Dr Fergus McAuliffe, a BEES graduate and TV presenter on "The Science Squad", and "10 Things to Know About..." and Education, Public Engagement and Communications Manager at the Science Foundation Ireland-funded iCRAG - Irish Centre for Research in Applied Geosciences. Fergus is a previous winner of Famelab Ireland and Famelab International, the HEA "Making an Impact" competition, UCC Science for All and UCC Doctoral Showcase.
Well done to all the finalists of Science for All Comp @UCC & congrats to our 2017 winner Darren Reidy of @uccBEES!! #uccsefs #sci4all pic.twitter.com/1xYZdTrACP

— SEFS@UCC (@SEFSUCC) April 6, 2017
So proud @uccBEES Darren Reidy @TheSmallOak @EPAIreland PhD wins #sci4all @UCC #sciencecommunication @scienceirel pic.twitter.com/e4LTaTfo4P

— Sarah Culloty (@CullotyS) April 5, 2017
Well done to Darren Reidy of BEES @TheSmallOak on winning #sci4all @ucc tonight. https://t.co/mfA8fYzE0s pic.twitter.com/fjmdzrBoXM

— School of BEES, UCC (@uccBEES) April 5, 2017