News 2012
News 2012
Dr. Tom Kelly - SEFS Outstanding Lecturer 2012
Wed, 1 Aug 2012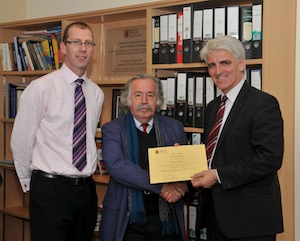 Dr. Tom Kelly from the School of BEES has been presented with his award as SEFS Outstanding Lecturer 2012.

At a recent ceremony in the College of Science, Engineering and Food Science (SEFS) Professor Pat Fitzpatrick, Head of College presented certificates to the overall winners and the shortlisted candidates for the College of SEFS Outstanding Lecturer & Outstanding Postgraduate Demonstrator Teaching Awards 2012. He congratulated them on their great achievement and said, "the objective of these awards is to recognize excellence in teaching through the most important stakeholders in the teaching and learning process, our students".

Pictured at the Presentation Ceremony were (l-r) Dr.Edmond Byrne, Chair of the SEFS Teaching and Learning and Student Experience Committee; Dr. Tom Kelly, SEFS Outstanding lecturer 2012; Prof. Pat Fitzpatrick, Head of College of SEFS.