News & Events
News & Events
UCC BSc Medical and Health Sciences students Translational Medicine Society host Women's Health Conference in UCC

On Saturday 26th November 2022 the UCC Translational Medicine Society partnered with Cleanmarine to host the Women's Health Conference, bringing together a range of speakers with expertise in women's health to speak on, explore and discuss menopause, women's health and nutrition.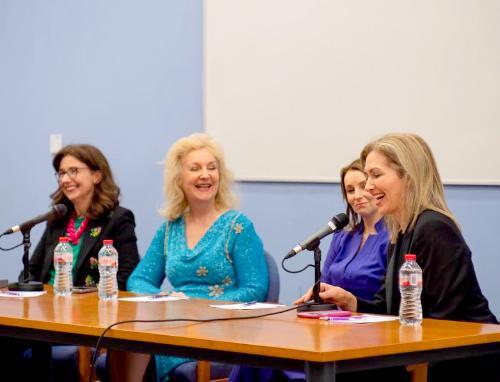 Photo: Session 1 speakers, Ms Catherine O'Keeffe, Dr Mary Ryan, Ms Sarah Brereton and Ms Laura Dowling
The Women's Health Conference comprised of three seminars, the first seminar which focused on the topic of The Menopause heard speakers: Dr Mary Ryan, Consultant Endocrinologist; Ms Sarah Brereton, Nutritional Therapist; Ms Catherine O'Keeffe, Menopause Workplace Consultant and Ms Laura Dowling, 'Fabulous Pharmacist' and founder of FabuWellness, contributing to the topic each with their own expert advice and experience on the area.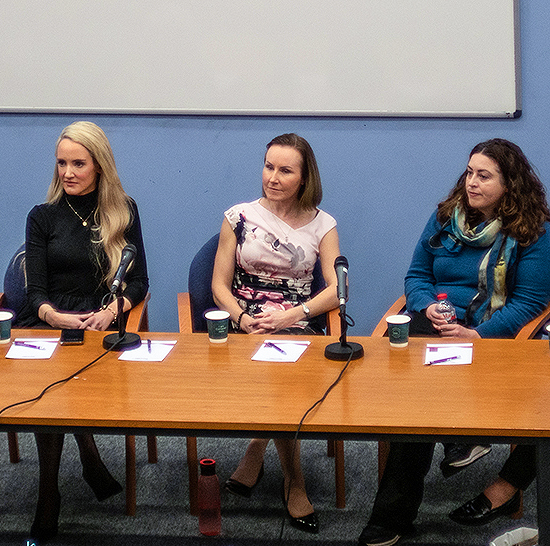 Photo: Seminar 2 speakers Dr Doireann O'Leary, Dr Siobhain O'Mahony and Dr Majella O'Keeffe.
The second seminar on Women's general health brought together speakers including: Dr Doireann O'Leary, General Practitioner and UCC lecturer; Dr Siobhain O'Mahony, Senior Lecturer UCC Department of Anatomy and Neuroscience and Funded Investigator in APC Microbiome; Dr Majella O'Keeffe, Dietician and Senior Lecturer in the UCC School of Food and Nutritional Science and Dr Catherine O'Kelly, Senior Clinical Psychologist. A very informative session ensued with the experts from many fields of women's health and nutrition contributing to the seminar.
Dr Siobhain O'Mahony, Department of Anatomy and Neuroscience and Funded Investigator in APC Microbiome spoke about how the interaction of our gonadal hormones and the gut microbiome account for sex-differences in the healthy microbiome. She explained that as 'our microbiome is important for our overall health and well-being these differences go towards explaining sex-differences in disease manifestation and risk'. Dr O'Mahony suggested that 'in the context of women's health and precision medicine we need to think more about innovation and development of sex-specific interventions'.
Other topics including diet, contraception, cervical cancer, looking after reproductive health, hormones and mental health, and Autism Spectrum Disorder (ASD) and Attention deficit hyperactivity disorder (ADHD) were discussed and questions such as 'What does advancement in women's healthcare look like from a research perspective, and what are the main challenges with this? were explored.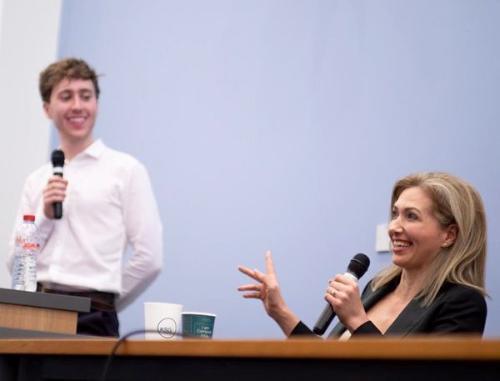 Photo: Sean O'Flaherty and Ms Laura Dowling speaking at Seminar 1.
The final session, a seminar on The Menopause introduced further speakers: Ms Loretta Dignam, founder and CEO of The Menopause Hub; Dr Deirdre Forde, Menopause GP, founder of Céile Medical; Ms Rachel Graham, Menopause Nutritionist and Dr Fiona Barry, Acupuncture and Wellbeing Expert.
The topic of Menopause was discussed from a range of very diverse perspectives posing such questions as 'What are the first signs that a woman may be entering perimenopause?; Do you think there is a risk of society taking advantage of menopausal women from a marketing point of view, or do you see these prominent conversations surrounding menopause to exclusively be a good thing?' and other questions including: 'The supplement industry is often considered to not be subjected to the same regulations as pharmacological therapeutics?'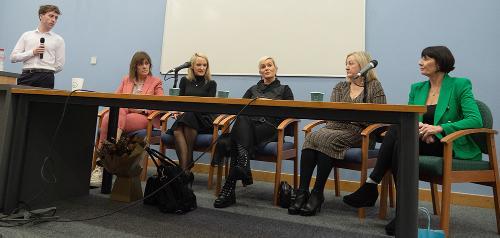 'Can you offer an overview of the science that backs recommendations of supplement use for menopause?; Menopausal women often have the opinion that treatment options for menopause must either go down the supplement/natural route or the hormone replacement therapy (HRT) route; Is there potential for HRT to go hand-in-hand with other alternative therapies?; and how can we empower women to take control of their menopause?' a lively and very informative discussions ensued.
Photo: Seminar 3 speakers from left: Ms Rachel Graham, Dr Doireann O'Leary, Dr Fiona Barry, Dr Deirdre Forde and Ms Loretta Dignam.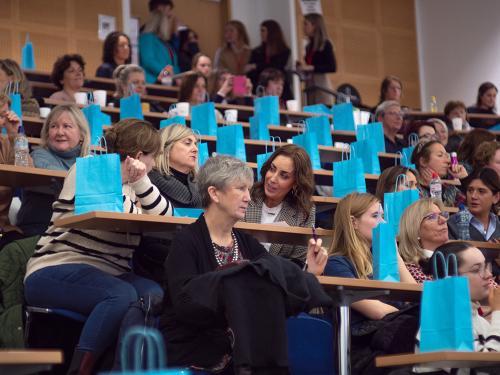 Photo: A section of the attendees with their conference goodie bags.
The conference was a resounding success and the UCC Translational society were very honoured to have such a mix of professionals contributing to each session.
The UCC Society of Translational Medicine was set up in 2020 by students of the new Medical and Health Sciences BSc degree programme in UCC. It is an exciting student-led opportunity focused on encouraging students to create change in the world of human health through translational medicine, with a principal objective of sparking interest and supporting the next generation of students in bridging the gap between medical science and clinical needs.
Photographs by Alana Daly Mulligan. News story Bereniece Riedewald
Links to Women's Health Conference
Other related links