News & Events
News & Events
UCC Honorary Doctorate awardee Professor Katalin Karikó inspires Anatomy and Neuroscience Students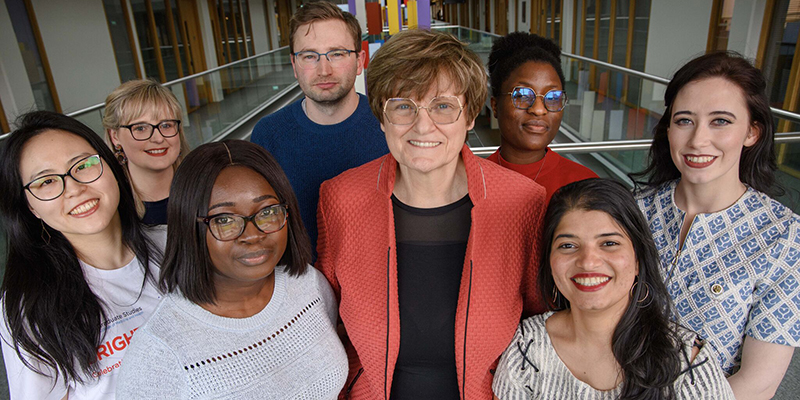 Professor Katalin Karikó took time to chat with research students from the Department of Anatomy and Neuroscience in advance of receiving an Honorary Doctorate from UCC for her pioneering mRNA research, which led to the BioNTech/Pfizer and Moderna vaccines against COVID-19.
Postgraduate students in the Department of Anatomy and Neuroscience commented how inspiring it was to meet and chat with Professor Katalin Karikó the extraordinary, driven, and talented scientist, whose life's work on mRNA research, led to the BioNTech/Pfizer and Moderna vaccines against COVID-19. Postgraduate students Caoimhe Lynch and Joan Omosofe Osayande (pictured) remarked how interested Professor Karikó was in their research and how encouraging she was to them as young scientists. Joan Omosofe Osayande commented how friendly and relaxed Professor Karikó was saying that they even had a chat about how to decide what to wear at an honorary conferring! Some advice hopefully to be of use later to these postgraduate students!
It was a very busy day indeed for the postgraduate students in the Department of Anatomy and Neuroscience as in addition to taking time to meet with Professor Karikó, the postgraduate students also hosted the very successful Bright Futures - Celebrating our researchers meeting under the guidance of Professor Yvonne Nolan, Vice Dean of Graduate Studies at UCC College of Medicine and Health.
Following the Bright Futures conference, attendees were invited to remain in the venue to attend a lecture by Professor Karikó. Introduced by Professor Caitriona O'Driscoll, Chair of Pharmaceutics in the School of Pharmacy, this lecture proved to be a fascinating insight to the life and challenging career path of a very interesting scientist. When asked about receiving awards and recognition for her work Professor Karikó spoke of how her greatest accolade was receiving a standing ovation from elderly residents in a care home who wearing t-shirts with her photo printed on them, thanked her for her work which saved their lives!
The postgraduate students then attended the honorary conferring of Professor Karikó in the UCC Aula Maxima, where she thanked the University and shared some very encouraging words to the young scientists.
UCC News: Pioneer of Covid-19 vaccine, Dr Katalin Karikó, to be awarded UCC Honorary Doctorate
IRISH EXAMINER: Scientist receives UCC honorary doctorate for work on covid vaccine
Silicon Republic: UCC to honour Dr Katalin Karikó with doctorate for mRNA research
Evening Echo: UCC to award honorary doctorate to scientist who turned the tide on Covid pandemic
Instagram: https://www.instagram.com/p/CriRZPfNDH3/?hl=cs
Facebook: Watch: Dr Katalin Karikó awarded UCC Honorary Doctorate
RTE 'Pioneer' awarded doctorate for contribution to Covid-19 vaccine development
BRIGHT FUTURES:
Bright Futures: Celebratig our Researchers website
Bright Futures: Celebrating our Researchers News
For more on this story contact:
Photographs Daragh McSweeney/Provision
News item B. Riedewald