News
News
UCC gets €8m boost for research equipment and facilities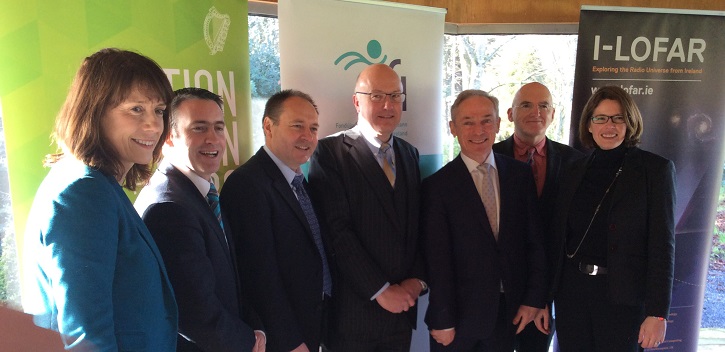 University College Cork received €8,682,332 or 30% of the €28.8m for funding research infrastructure as announced by Ministers Bruton and English and the SFI. UCC researchers are leading or involved in eight of the 21 chosen projects.
The Minister for Jobs, Richard Burton, TD together with the Minister for Research, Innovation and Skills, Damien English, TD today released details in Birr, Co Offaly of the €28 million investment in research equipment and facilities through Science Foundation Ireland.
The funding will create research supports to enhance research and jobs in a variety of Research Centres and academic units in the University which include: the Infant Centre, the APC Microbiome Institute, the Tyndall National Institute, IPIC, the Synthesis and Solid State Pharmaceutical Centre, the Marine Renewables Infrastructure Network, and the Irish Atmospheric Simulation Chamber (IASC) Facility.
Professor Anita Maguire, Vice President for Research and Innovation at UCC says:
"We are delighted with the funding announced today as it provides us with the supports needed to take ideas and convert them into reality. Increased levels of collaboration between industry and academia have already delivered significant value to the Irish economy and initiatives like this help boost innovation through the transfer of technologies to companies. Today's announcement will also help make us more competitive when applying for research grants from Horizon2020 and other international sources of funding."
This infrastructure funding was awarded competitively following rigorous international review to research groups where the research equipment and facilities are required to address major research opportunities and challenges; including partnerships with industry and /or international funders. This new infrastructure will ensure that Irish researchers continue to be internationally competitive, with access to modern equipment and facilities which will enable them to be successful in securing future funding from leading companies and Europe, including Horizon 2020.
This investment is made by the Department of Jobs through Science Foundation Ireland.
http://www.irishexaminer.com/ireland/ucc-gets-8m-boost-for-research-equipment-and-facilities-375836.html